If this is your first Expert Advisor, or you are not sure what to do, here are some tips that will help you.

1. Activate Automatic Trading
For EAs to work, automatic trading must be activated.
Tools > Options > Expert Advisors > Allow Automated Trading
2. Use a different magic number for each symbol
For example –> EURUSD (Magic Number) = 1234,   GBPUSD (Magic Number) = 2345, USDCAD (Magic Number) = 2525
3. Use the recommended symbols
Atomic79 EA is primarily made for the gold symbol, XAUUSD.
Respect this rule if you don't know what you're doing.
4. Activate the news filter
All our EAs have a news filter. Activate it.
Tools > Options > Expert Advisors > Allow WebRequest listed URL, and add the address   http://calendar.fxstreet.com/
It is not a web page, it is a gateway, it does not open in the internet browser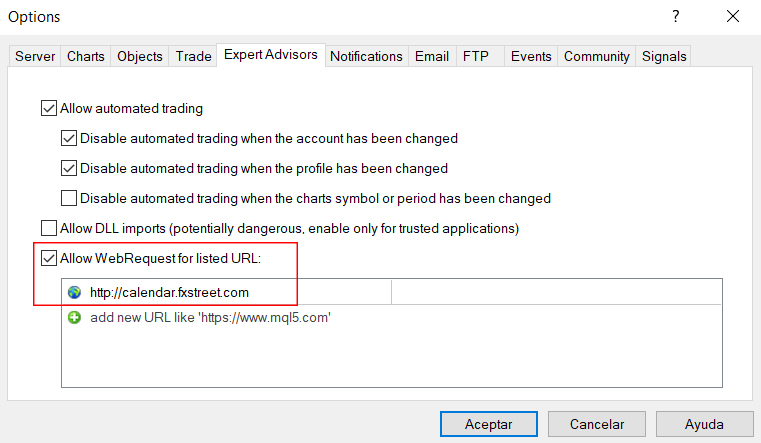 5. Do not manually intervene in trades opened by the Expert Advisor
Trades opened by the EA should not be closed. Results can be unpredictable.
Unless you know very well what you're doing, don't change inputs when there are open trades.
6. Use a VPS
If you don't want to have your PC 24 hours a day on and working, use a VPS.
This is the equivalent of a virtual pc.
7. Respect Lot Sizes
To win in trading there are no shortcuts. If you have $1,000, you're not going to make $100,000 in a year.
The sooner you understand this, the easier it will be for you to make money.
If $1500 per symbol is recommended (according to EA), don't skimp and protect your money.
Do not open trades with a lot size larger than recommended, we usually use 0.01
8. Do not change parameters without knowing what you are doing
It is common for users to change parameters of the EA's operation without knowing why they do so.
If you want to change a parameter, I recommend that you first check the repercussions of that change with a backtest.
If you don't know how to do backtests, you should start with it now.
To get started, open the Strategy Tester, CTRL+R, select the EA, the symbol, the timeframe, and start your test.
9. Once you start using the Expert Advisor, look in the Experts log and check how everything is correct.
Access the registry from Terminal (Ctrl + T), and go to the Experts tab, check that there are no errors.
It is only necessary to do this the first few times you use an EA, to check that there are no errors of any kind.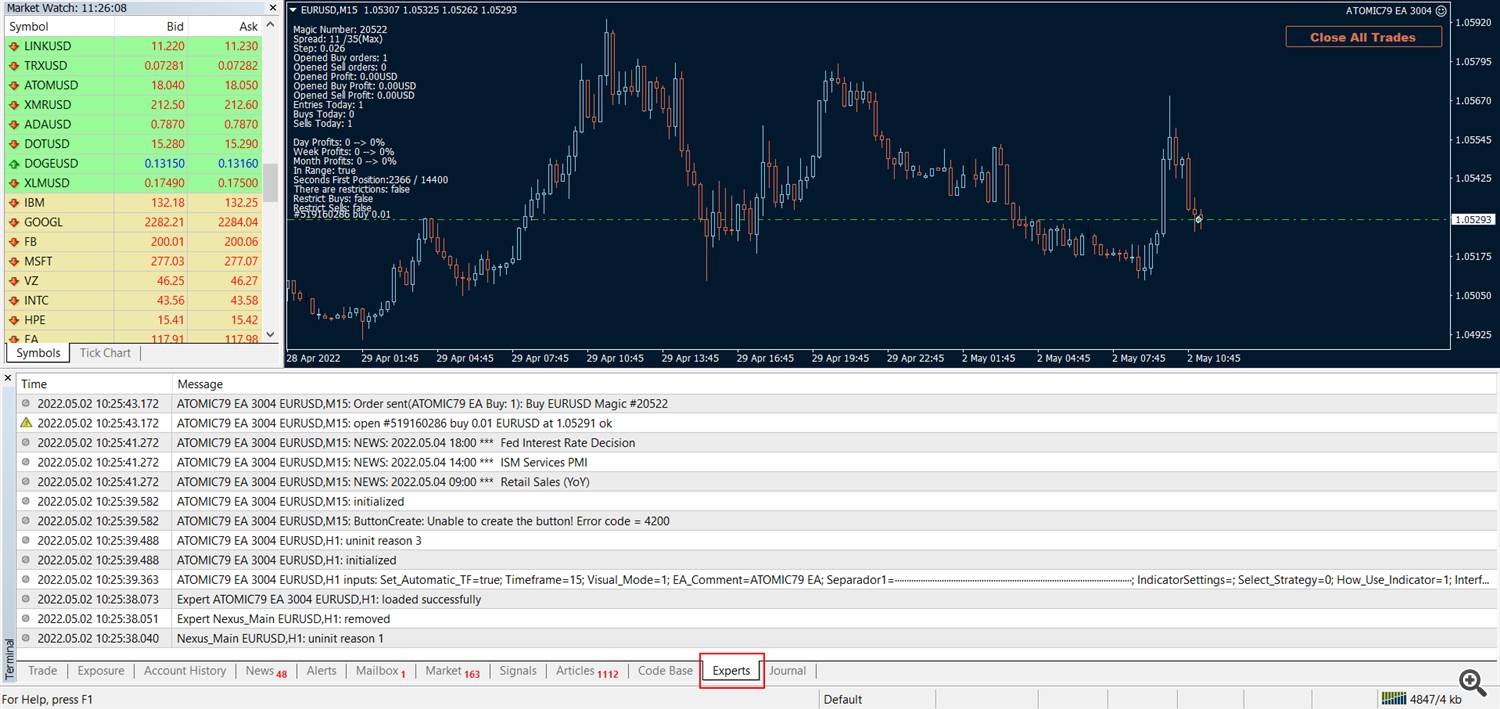 10. Load .set configurations
If you don't want to do your own optimization process, there are some pre-baked settings below. You can make use of them.
To load them into your EA, you simply need to save the .set file to a location. When you add the expert advisor to the chart, in the list of inputs you will see:   LOAD and SAVE
With LOAD you can load this .set file. With SAVE you can save a file that you generate yourself

Explanation of how ATOMIC79 works

TWO MODES: SAFE MODE AND TURBO MODE
Atomic79 has two modes: safe, and turbo.
The   Safe Mode   it works only with the trend. This is so: a trade is opened in favor of the trend. If all goes well, it closes with a profit. And waiting for a new entry.
But if things go wrong, trades will only be opened to compensate for the loss of that first, with trades in favor of the trend.
Trades can be buy, and can be sell, regardless of the direction of the first trade.
The   turbo mode   bases your first market entry on the trend. If all goes well, it will close with a profit, and wait for a new entry. But if the grid is activated, it will go both with the trend and against the trend. The turbo mod takes full advantage of Recovery mode to close operations.
THE FIRST ENTRY: CONSTANT MODE AND SIGNALS MODE
We have said that the first entry is made in favor of the trend, regardless of which mode we are using. But when do we enter the market? The   constant mode will open a trade when we add the Expert Advisor to the chart. And when one trade is closed, it will immediately open another one.
On the other hand the   signal mode   It will open trades when a signal is given, that is when an uptrend changes to a downtrend, and vice versa.
THE STEP, THAT GREAT UNKNOWN
The step is the minimum distance between operations. Let's notice that we talk about MINIMUM distance. This is because the EA can determine a larger distance, but not a smaller one.
The step is calculated with the previous operation. Note that if the previous operation is a buy operation, which has been opened with the ask price, and due to the change in trend, a sell operation is opened at the bid price, due to the spread, both operations may be at a distance less than the step.
The "Step Multiplier" parameter multiplies the previous step by the value established. If the Step is 80, and we set the Step Multiplier to 1.1, the next step will be 88.
LOT MULTIPLIER MODE AND LOT SUM MODE
As of Atomic79 version 11, you can choose how the size of a trade is calculated, counting from the previous one.
This will be better understood with an example:
Lot Multiplier Mode set to 1.5
Trade 1. Trade Size = 0.01

Trade 2. Trade size = 0.01*1.5 = 0.015 (will round to 0.01)

Trade 3. Trade size = 0.015*1.5= 0.0225 (will be rounded to 0.02)

Trade 4. Trade Size =

 

0.0225

 

 

*1.5= 0.03375(will be rounded to 0.03)
Trade 5. Trade size =

 

0.03375

 

*1.5=

0.050625 (will be rounded to 0.05)
The size of the operations may vary, it may be the case that this progression is not followed in a pyramidal way, and one we have a different sequence (for example: 0.01, 0.01, 0.01, 0.01, 0.05). This is due to a signal strength calculation algorithm.
MODE RECOVERY, WAITING FOR IT TO ARRIVE
Behind those two words there is no magic, there is an algorithm that does the following:
When two trades, one winning and one losing, can neutralize each other, then ATOMIC79 will close them.
But not in all cases. These are some:
First trade of the cycle (at a loss) + last trade (at a profit) = add a profit
Most losing trade + Most winning trade = add a profit
Largest trade + Smallest trade = add a profit
The number of open trades must be greater than the one set in the parameter: "Trades for Recovery System".
The necessary gain must exceed the one established in the parameter: "Take Profit for RSystem".
Earnings for the week can be used for the neutralization process. Activate parameter: "Use Weekly Profits".
SETTING THE LOT SIZE
When we establish the Lot Size, that is, the size of an operation, what we establish is the size of the first of a cycle.
We can use a   fixed size   of the first operation. Or, a size that fits the   balance   of the account, using AUTOLOT.
The AUTOLOT parameter is accompanied by "for each". For example, we can therefore tell the EA: AUTOLOT true, set a size of 0.01 per $2000,
or "Set a size of 0.1 per $15,000."
Note that the balance is rounded up, not down. If you set 0.01 per $1,000, when balance is over $1,500, the lot will be 0.02.
We have available the option to set a maximum batch. If this value is reached, the operations below will have the same value.
ESTABLISHING THE TAKE PROFIT
Atomic79 sets Take Profits in the base currency of the account. If your account is in euros, and you set a TP of 1, this is 1 euro.
If your account is in dollars, the same, 1$. The parameters selected in the sets are created with a dollar account, so if you have an account with a currency with a very different value, you will have to do the conversion.
This can be annoying, but it is the way in which we hide our TP from the broker, to avoid manipulations by him.
The AUTOTP works the same as the AUTOLOT, the TP is adapted to the size of the operation. We are telling the EA: "For every 0.01 set a TP of 0.5 euros. If the initial trade is 0.02, then the TP will be 1 euro."
We adjust the TP for each trade with the "Profit per Trade" parameter. If this parameter is at 0.5 euros and there are 10 operations, the TP will be at 5 euros.
But this can be too much sometimes, especially when there are many operations. This is where "MaxTP" comes into play. If it is set to 1.5 euros, it will be 1.5 even if there are 10 open trades.
REVERSAL ZONES
We have found that Atomic79 works best when we are in a range, that is, in a market that fluctuates without trending.
One way to avoid too strong a trend against us is to avoid opening trades when the price exceeds the daily high (3 days), or the daily low.
Therefore, outside of the reversal zones, the EA will not work. The zones are updated once a day.
THE FILTERS
The filters help us to avoid opening operations that exceed the spread, or the slippage.
We can configure Atomic79 so that it does not open trades on a specific day. And also a time filter.
And we have the must-have fxstreet news filter. wear it.
Go to Tools > Options > Expert Advisors , and add the web request: http://calendar.fxstreet.com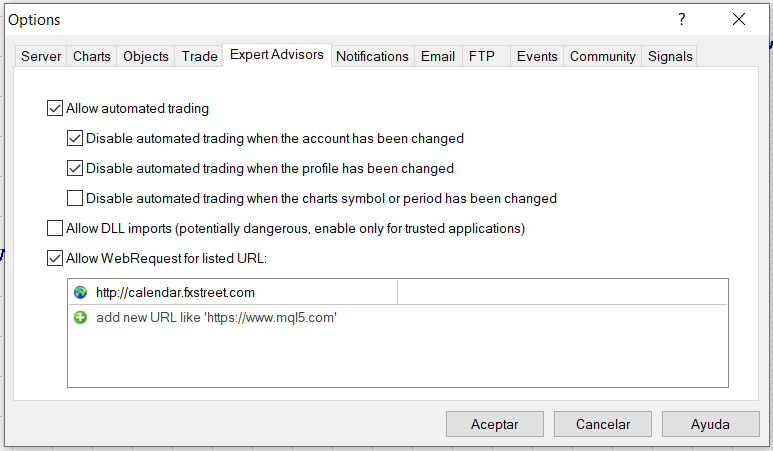 The news filter does not work in backtest. So the results may differ.
You'll be tempted to follow this link in your browser, but this isn't a website: it's a gateway, which is how Atomic reads the news (he has no eyes):
THE BACKTEST GOES SLOW!
Due to the limitations of MT4, the safe mode works slow in backtesting, since it uses a heavy indicator. I can't do anything with this.
Flow within a live account is "normal". If you have any problems with freezing in the terminal, please let me know.
The accuracy of this indicator, which does not repaint, is so good that I had to add it to Atomic79
Here a sample: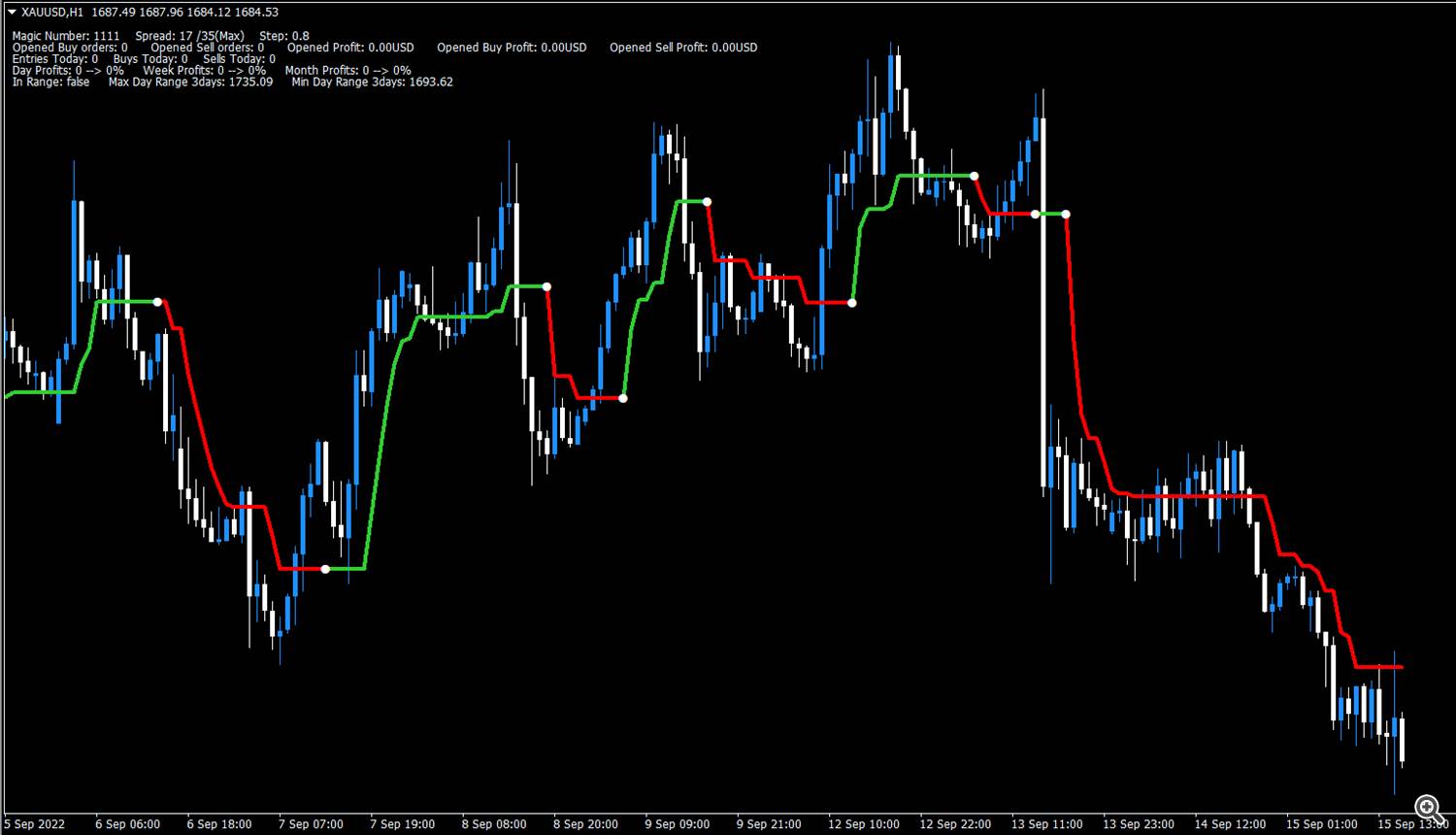 THE MAGIC NUMBER
This is the number by which the expert advisor identifies the chart on which he is opening trades.
Likewise, it will only close trades assigned to this magic number.
This allows several things. For example, it allows you to open trades manually at the same symbol or with different Expert Advisors without their interference.
So remember to change the number if you are going to use Atomic on different charts
THE FAMOUS "NEW CYCLE" BUTTON
Before we added this button to Atomic79, when someone wanted for the EA, he was faced with a difficult task, since, if used constantly, when trades were closed, new trades were immediately opened.
Many thought that it was best then to disable automatic trading. But this prevented opening and closing operations.
And this was the solution, add this button. Which leaves Atomic working normally, but once it closes a cycle (set of operations), it doesn't open anymore.
When you open Atomic79 the button will be gray, press to make it green. When you want to use it, then press to make it red.
I NEED ASSISTANCE, I THINK SOMETHING IS WRONG
When we do not yet know an Expert Advisor, we can think that there is something wrong if things do not work as we think. And right away we think there is a bug.
In my experience as a seller, and more specifically, as a "User Troubleshooter", I have noticed the typical mistakes of inexperience.
Every EA is different, but Atomic79's most common error occurs when no trades are opened.
Here are the steps you will need to follow next:
Make sure you have accessed your terminal using the main password, and not with the password "investor" (read only.)

We may be out of trading hours. You can check the schedule in the Market Watch ( CTRL+M ), by right clicking on the XAUUSD> properties

Check that you have activated automatic trading.

Check the registry. To access simply press CTRL+T and go to the tab

 

experts . This will give you a lot of information.

The price may have broken out of the range. We have spoken above in the section on reversal zones.

If we are using Signal mode, no trades will be opened until a signal (i.e. trend reversal) arrives.

Depending on our settings, we may be off schedule or calendar.

If the news filter is active, there may be news and Atomic79 is temporarily stopped.

We may have repeated the same magic number as another Expert Advisor
If you are sure that you have checked the above points, and you want to notify me of your problem, please make sure that you provide me with the following information:
Screenshot of the terminal showing the entire graph

Experts log screenshot (CTRL+T > Experts)

Set you are using, or screenshot where you can see the settings

broker name