Semiconductors hold the key to a major market advance, in my opinion, as they're a critical part of the NASDAQ 100 ($NDX). There are 16 semiconductor companies in the NDX, including NVIDIA (NVDA), Advanced Micro Devices (AMD), Texas Instruments (TXN), Applied Materials (AMAT), QUALCOMM, Inc. (QCOM), and Intel (INTC). That's approximately $1 trillion in market cap between these 6 companies. In addition to representing a significant part of the NASDAQ 100, semiconductors can be a leading indicator of our economy. Therefore, we should pay attention to how they perform. Check out this relative two-year daily chart:
The good news is that it appears the lengthy absolute and relative downtrends have been broken. But are they false breakouts? We don't know that right now, but what we do know is that semiconductors are testing a very critical short-term price support level. Failure here and the overall market, particularly the NASDAQ 100, could be poised for yet another drop. Check out the hourly chart of the Dow Jones U.S. Semiconductors Index ( $DJUSSC) below.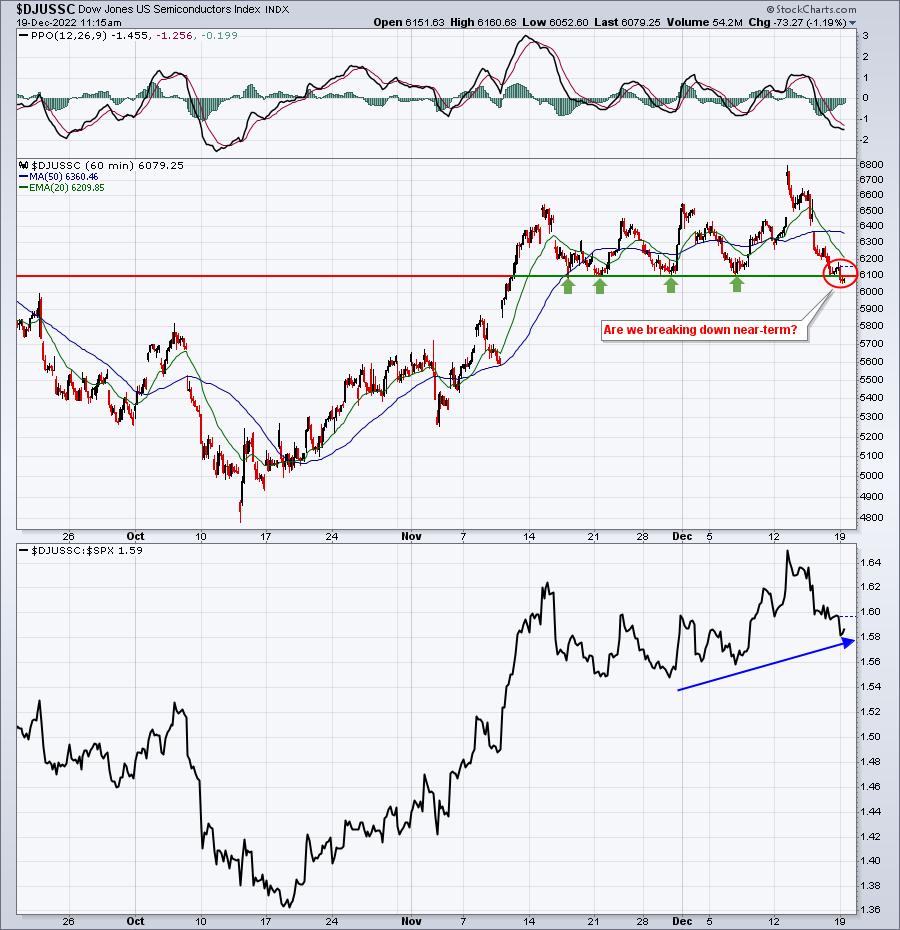 Price support has clearly been established at 6100. How $DJUSSC closes today could influence the NASDAQ 100 today, but more importantly, over the next few weeks. I do like that as absolute price support sees test after test, the $DJUSSC is showing improving relative strength. Is this a sign that we're about to see a significant rally? Or will the $DJUSSC tumble again once this support is lost? Either way, I'd say this level will be one to watch today and throughout this week.
---
Semiconductors will likely be discussed significantly at our MarketVision 2023 event. This is our 4th annual MarketVision event and it will be held on Saturday, January 7th. It's a FREE virtual event that requires no credit card. You can CLICK HERE for more information and to register for the event. We are expecting to reach capacity, so please register NOW! I hope to see you there!
Happy trading!
Tom
About the author:
Tom Bowley
is the Chief Market Strategist of
EarningsBeats.com
, a company providing a research and educational platform for both investment professionals and individual investors. Tom writes a comprehensive Daily Market Report (DMR), providing guidance to EB.com members every day that the stock market is open. Tom has contributed technical expertise here at StockCharts.com since 2006 and has a fundamental background in public accounting as well, blending a unique skill set to approach the U.S. stock market.
Subscribe to
Don't Ignore This Chart!

to be notified whenever a new post is added to this blog!