Magic Trend V2.
This is the advanced and premium indicator for the Magic Trend, a free indicator.  It has 3 output signals driven by different market conditions. This indicator has a double function of working as an indicator and utility at the same time.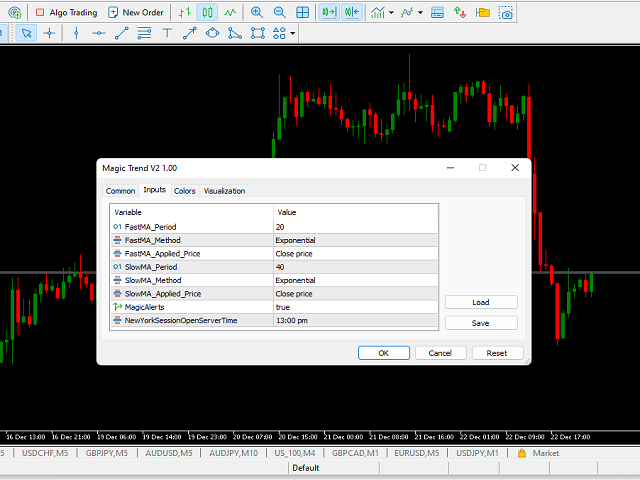 Specifications 
●3 output signals 1) Slow Moving Average with color change – The MA has a non-repaint color change, which makes it perfect for entry signals.
                           2) Fast Moving Average (the original Magic Trend line) – Gives a signal from a combination of other indicators. It repaints and is perfect to use                                                                                                                as an exit signal. Can only be used as an entry signal in combination with the slow                                                                                                                     MA. Green color = buy, red color = sell, white color = no signal. 
                           3) Magic Alerts – These are Alerts for buy and sell signals that you can use to confirm your directional bias.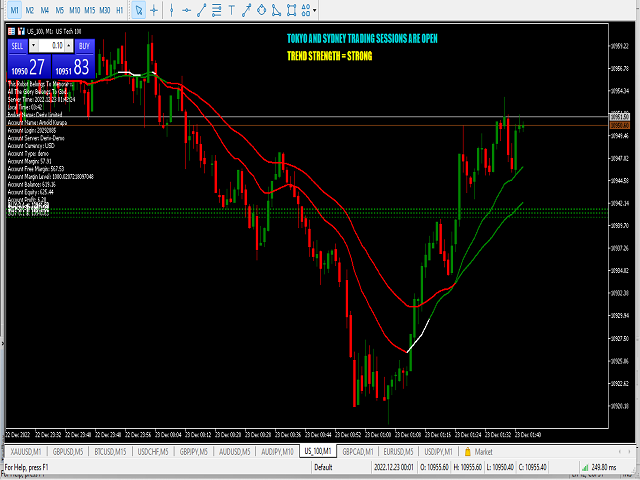 ●Trend Strength Display – Displays whether the trend is strong or weak. Most profitable and volatile opportunities take place when the trend strength is strong.
●Trading Sessions Display – Displays the names of the trading sessions that are open at the current time. Displays 5 trading sessions: New York, London, Sydney,                                           Tokyo, and Frankfurt.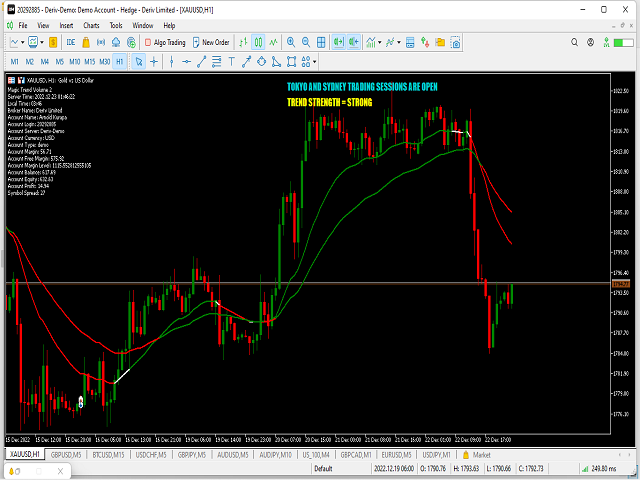 ●Account and Symbol Info Display – Displays the Account name, broker name, account type, margin level, balance, equity,  open profits, server date and time,                                                        local time, and Symbol spread.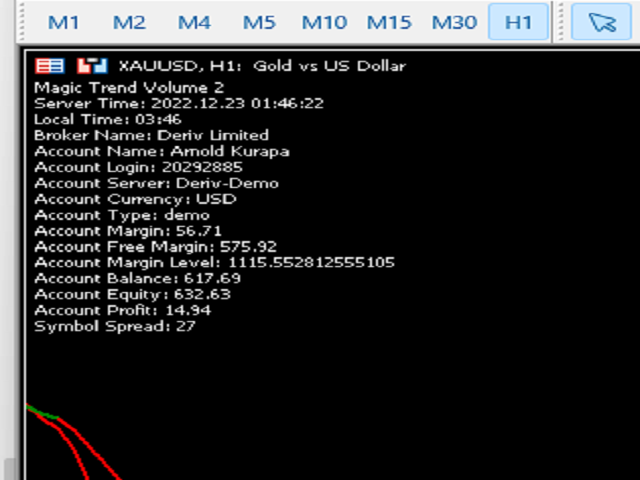 ●User-friendly – simple and easy to use.
●Works on any MT5 chart across all markets. 
●Deletes everything from the chart once the indicator is removed.
One can use many strategies, but these are strategy tips you can observe when testing the indicator on a strategy tester.
1] Open a buy position when both the Fast and Slow MA turns green and exit the position/set your position to break even when the Fast MA turns to White/Red. Do vice versa for the sell trade.
2] Open a buy position when a green Fast MA crosses over a green Slow MA and exit when the Slow MA turns white/red. Do vice versa to open a sell position.
Important Points To Note!!!
1] NewYorkSessionOpenServerTime Parameter = Broker Time when the New York Session Opens…. Do not replace it with your local time for accuracy, lest your local time=server time!!!