Now that we are one day into the new year, there are two pieces of advice to give you.
Learn a strategy and then become a specialist in that strategy. As an example, you could use phases. And once you understand the phases on a daily and weekly timeframe, you may find that your trading will vastly improve.
Get in the habit of following bonds. Sure, short-term bonds work well as do the 20+ year-long bonds. However, we are all about the high yield high debt junk bonds. We basically use the bonds to determine risk on/off. And we find that quieting the noise, especially with the dreary forecasts for this year, helps us trade a lot better.
The chart of the iShares iBoxx $ High Yield Corporate Bond ETF, HYG and the SPDR Barclays High Yield Bond ETF JNK have been excellent guides to the short and long-term market moves. It also keeps you out of harm's way during the chop. Let's focus on the chart of HYG (see chart 1).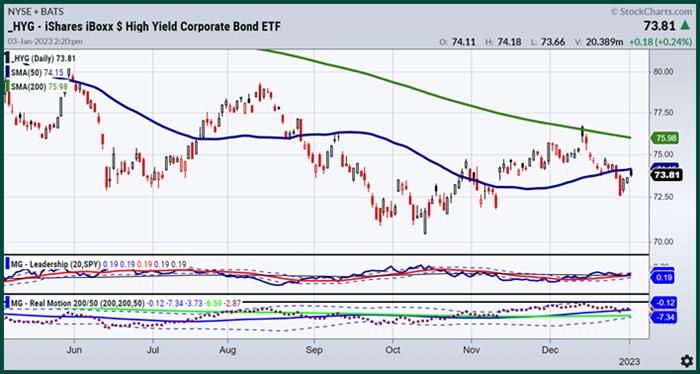 CHART 1: PHASES IN HYG. Here you see times when HYG went through phase changes (July, October, December). Price action at the 50-day moving average could indicate a potential phase change. Chart source: StockChartsACP. For illustrative purposes only.
In June 2022, HYG bottomed. So did the market. Then, HYG had a phase change in July but could not quite get going enough to clear the 200-day moving average (MA). And so, the market sputtered. Then, the sharp reversal candle in October gave traders a good bottom risk point. The ensuing rally took the price right up to the December high and the 200-day MA.
Currently, HYG sits right under the 50-day MA. It also closed green on a red day in the indexes. That tells you that risk appetite remains, regardless. HYG outperforms the SPY, and the momentum had a bullish cross while the momentum trades above the moving averages. And, most importantly, it tells you to watch that 50-day MA carefully.
For more detailed trading information, contact Rob Quinn, our Chief Strategy Consultant, to learn more about Mish's Premium trading service or our other trading services during a brief consultation.
"I grew my money tree and so can you!" – Mish Schneider
Get your copy of Plant Your Money Tree: A Guide to Growing Your Wealth and a special bonus here.
---
Follow Mish on Twitter @marketminute for stock picks and more. Follow Mish on Instagram (mishschneider) for daily morning videos. To see updated media clips, click here.
Mish discusses how to sharpen your trading skills for 2023 in this video for Business First AM.
https://www.youtube.com/watch?v=tnGVu1TBwGk
In this special StockCharts TV presentation, Mish teaches you how to use four simple and reliable key indicators to help you catch big swings in the market.
https://www.youtube.com/watch?v=xXKn11tJX9Q
In this appearance on Business First AM, Mish discusses why she's picking Nintendo (NTDOY).
Mish sits down with Gav Blaxberg for a W.O.L.F podcast on what she has learned as a trader and teacher.
In this appearance on Business First AM, Mish explains how even the worst trade should not be too bad with proper risk management.
In this appearance on Real Vision, Mish joins Maggie Lake to share her view of the most important macro drivers in the new year, where she's targeting tradeable opportunities, and why investors will need to keep their heads on a swivel. Recorded on December 7, 2022.
Mish sits down with CNBC Asia to discuss why all Tesla (TSLA), sugar, and gold are all on the radar.
Read Mish's latest article for CMC Markets, titled "Two Closely-Watched ETFs Could Be Set to Fall Further".
Mish talks the current confusion in the market in this appearance on Business First AM.
Mish discusses trading the Vaneck Vietnam ETF ($VNM) in this earlier appearance on Business First AM.
---
S&P 500 (SPY): 375 support and 384 resistance.
Russell 2000 (IWM): 170 pivotal support and 175 resistance.
Dow (DIA): 325 support and 334 resistance.
Nasdaq (QQQ): 260 support and 267 resistance.
Regional banks (KRE)): 56 support and 61 resistance.
Semiconductors (SMH): 196 support and 205 resistance.
Transportation (IYT): 210 pivotal support and 215 now resistance.
Biotechnology (IBB): 127 is pivotal support and 133 overhead resistance.
Retail (XRT): 57 pivotal support and 63 now resistance. Holding 60.
Mish Schneider
MarketGauge.com
Director of Trading Research and Education
Wade Dawson
MarketGauge.com
Portfolio Manager
About the author:
Mish Schneider
serves as Director of Trading Education at MarketGauge.com. For nearly 20 years, MarketGauge.com has provided financial information and education to thousands of individuals, as well as to large financial institutions and publications such as Barron's, Fidelity, ILX Systems, Thomson Reuters and Bank of America. In 2017, MarketWatch, owned by Dow Jones, named Mish one of the top 50 financial people to follow on Twitter. In 2018, Mish was the winner of the Top Stock Pick of the year for RealVision.
Subscribe to
Mish's Market Minute

to be notified whenever a new post is added to this blog!