Lying at the intersection of healthcare and technology, Health Catalyst, Inc. (NASDAQ:HCAT) stock has suffered from a 74% downside in the last year. Now at $10.49, HCAT stock seems a good investment, especially since its ratings are all green as pictured below.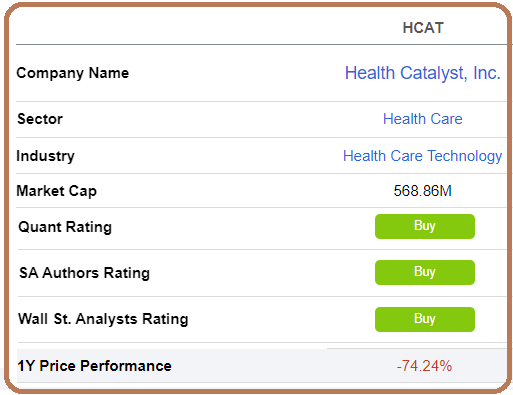 However, analysts at Evercore ISI think otherwise and have recently downgraded its shares, as high wage inflation put pressure on the healthcare sector as well as on related IT spending.
Hence, my objective with this thesis is to assess which party (ratings or Evercore) is right. For this purpose, I will use financial metrics and data from HCAT's earnings calls. In order to obtain an industry-level perspective, I use reports from two consultancy firms, the first by Deloitte entitled "Inflation Signals unrest ahead of healthcare and the second by McKinsey having as title, "The gathering storm: The transformative impact of inflation on the healthcare sector."
I start by assessing the effects of inflation on the sector and how technology can help.
Technology Reducing Inflation's Impact on Healthcare Services
While we primarily have in mind costly gasoline and food, few consumer goods have risen in price faster than health care. These include costs of doctor visits and prescriptions, as well as most medicines since sourcing ingredients has become problematic due to supply chain issues. After the peaks in COVID infection, the impact on healthcare costs has been slower, but recent research from Deloitte underscored the inevitability of healthcare inflation catching up to overall services.
While goods inflation has eased with lower energy prices, the strongest cost pressure now comes from services, mainly wages, which could prove more tenacious and more difficult for consumers to manage, as central banks have to grapple with higher interest rates which imply higher borrowing costs across the board.
In this gloomy scenario, technology comes as a savior.
Healthcare providers can use everything from computer systems, and applications that analyze data to automation tools that can fundamentally reorganize their business processes to achieve greater productivity. The aim is basically to use existing data more analytically. Now, to provide users with an idea of the potential cost savings, administrative expenses alone accounted for approximately 25% of the $4 trillion spent on healthcare in the United States in 2021.
Going into details, according to McKinsey, automating appointment scheduling, patient access, and streamlining clinical workflows are all solutions to deal with rising costs in this sector. Furthermore, data Analytics through AI to target clinically promising compounds more quickly can reduce the time spent on preclinical drug development considerably and cut early-stage development costs.
For this purpose, HCAT is a provider of data processing technologies, and professional services for healthcare organizations. It also has a cloud-based data platform, provides analytics software solutions, and operates through two segments: Technology and Professional Services as pictured below.
Segmental Revenues, Margins, and Engagements
Focusing on Technology, with nearly $44 million for the third quarter of 2022 (Q3), this segment accounted for 64% of the company's revenues. Also, as seen by the $14.57 million cost of revenues for this segment in the table below, its gross profits come to $29.42 million which translates into margins of 67%.
This gross margin is comparable to those of IT software companies and is about 10% less than database provider Oracle (ORCL), but the latter has much higher revenues on which to spread its fixed costs. Now, Oracle's acquisition of healthcare IT play Cerner for $28 billion last year paves the way for greater consolidation in this industry where there is also competition from International Business Machines (IBM) with its AI specially developed for the healthcare industry.
Looking deeper into the revenue, the total sales of $68.35 million represented a 15% year-on-year growth, it shows that the company may in fact be benefiting from some of the tailwinds associated with healthcare companies using a higher dose of technology to compensate for higher wage inflation. As a matter of fact, a client has been able to lower costs through the use of HCAT's DOS data platform to automate several components of the clinical chart abstraction process. This pertains to the collection and recording in a specific format of patients' medical records has been achieved at lower expenses while also improving quality.
Furthermore, in contrast to the morosity engulfing the sector, HCAT has enabled a medical facility to expand revenues by 15% by leveraging its visualization solutions for patients. Thus, far from using technology only for cost-cutting purposes, certain of its clients are using it to grow as demand for healthcare remains high.
This optimism represents a glimmer of hope in the all-doom picture painted by Evercore.
Challenging Evercore's Instance and Profitability
With more engagements with hospitals and other medical companies, as labor costs go higher, the SG&A (Sales, General and Administrative) expenses which include marketing have increased. Thus, operating expenses were $4 million more in Q3 than in the same period last year, which accentuated the operating loss as shown below.
Moreover, the company has suffered revenue shortfalls as many health systems stakeholders have temporarily paused purchase-related decisions in order to have more time to reprioritize their budgets. This fact concurs with Evercore's point of view that the healthcare sector, especially hospitals are suffering from additional costs. The solution, as per the analysts will be for clients to seek more expertise from HCAT and as a result, the Professional Services segment will benefit from more sales and may even surpass the Technology segment. Now, since this segment is a lower-margin one, expect overall profitability to suffer.
However, this gloomy scenario pictured by Evercore should be offset by the company's cost reduction efforts for example pausing investments made in the life sciences adjacent market and being more efficient in the sales effort. Now, being ahead of schedule in cost-cutting has in fact enabled an improvement in EBITDA guidance for 2022, as I detail below.
HCAT's Portfolio Appeal, EBITDA, and Valuations
Through its deep-down engagements with clients (existing and potential), HCAT's management is aware of the way they are reworking their budgets in view of high inflation constraints, and as such, they were expected to take purchase decisions by the end of last year. Noteworthily, their priorities were on solutions delivering "hard dollar financial improvement in the near term."
Now, since the company's portfolio includes "solutions that directly reduce health systems' current financial pressure," HCAT's management was confident in clinching more deals. As a result, they provided a guidance of $66.9 million to $68.9 million for the fourth quarter (Q4), whose midpoint is $3.2 million more than the revenues obtained in the same period last year.
Looking into the bottom line, the adjusted EBITDA losses are expected to be between $2.1 million and $0.1 million, which compares to a loss of $6.3 million in Q4-2021. Therefore, based on a year-on-year basis, the losses are expected to decrease, and not increase as per Evercore. To further support my point that their forecast may not be accurate, in case HCAT's Professional Services segment were to be more in demand from labor-constrained hospitals as they mention, this would drive up the utilization rate of the segment resulting in higher gross margins, which would play favorably in the overall profitability mix.
Staying in the realms of profitability, the company's trailing levered free cash flow margin is 7.83% which is 500 basis points higher than for the healthcare sector. This metric obtained by dividing the free cash flow ("FCF") by the revenue is especially important in the current economic environment where liquidity matters more given that the Federal Reserve is tightening monetary policy.
In these circumstances, it is better to stick with Seeking Alpha's ratings than look at Evercore's guidance.
Scoring an "A," HCAT's valuation grade points to a buy. Being moderate and assuming an undervaluation of only 20% compared to more than 50% for the forward price-to-sales metric as pictured below, I obtain a target of $13 (10.8 x 1.2) based on the current share price of $10.8.
Concluding with a Cautionary Note
Therefore, with a portfolio that is appropriately positioned, Health Catalyst, Inc. could in fact benefit from the effects of high inflation and labor constraints on the healthcare sector, namely by offering technology that could either reduce costs or even help some clients to expand, since, as per McKinsey, demand remains high.
This thesis has also shown that analysts at Evercore may be wrong in downgrading the stock to $10 and on the contrary, it is a buy with a $13 target. This said, I have exercised moderation in valuing the company, and one of the reasons is because of its loss-making status and debt, which necessitates quarterly interest payments of $1.8 million. This is not a big amount, but it still needs to be factored in as borrowing costs rise further and the stock suffers from volatility especially when the Fed raises interest rates in order to tame high inflation.
To support my bullish stance, Health Catalyst, Inc. was net cash positive by $131.9 million after subtracting debt of $248.2 million at the end of Q3. Added to these are receivables of $50 million, which should help HCAT to mitigate the effects of a worst-case scenario where hospitals do not award additional contracts to HCAT as expected.
Finally, as elaborated earlier, this is a trillion-dollar marketplace where there are lots of opportunities for companies that use analytics, visualization tools, and automation to reduce administrative expenses in the U.S. alone.