Who are we if we can't keep the agreements we make with ourselves?"― Meek.
Today, we are circling back on ACADIA Pharmaceuticals Inc. (NASDAQ:ACAD) for the first time since our last article on this mid-cap biopharma back in April of 2021. The shares have been somewhat rangebound since the company suffered a significant disappointment over the summer. Some potential positives are on the horizon in 2023, however. An analysis follows below.
Company Overview:
San Diego-based ACADIA Pharmaceuticals Inc. is focused on the development and commercialization of small molecule drugs that address unmet medical needs in central nervous system or CNS disorders. ACADIA's asset is Nuplazid or pimavanserin for the treatment of hallucinations and delusions associated with Parkinson's disease psychosis. This compound was approved by the FDA for this indication in 2016. The company has also been trying expand Nuplazid as a treatment for dementia-related psychosis and as an adjunctive treatment for schizophrenia. It is developing a different compound Trofinetide for the treatment of Rett syndrome, a rare neurodevelopmental disorder. The company has a couple of earlier stage (ACP-044, ACP-319) and preclinical assets that will not be germane to this analysis.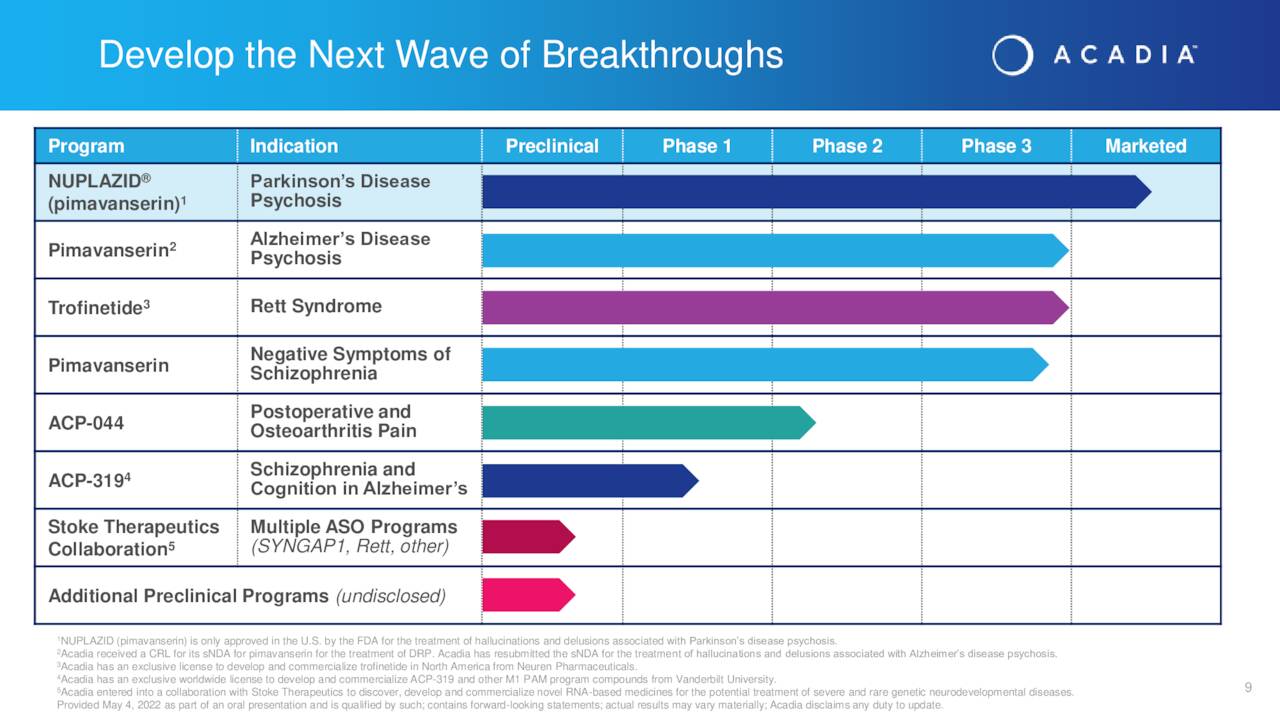 Currently the stock trades just above $18.00 and sports an approximate market capitalization of $3 billion.
Third Quarter Results:
The company posted third quarter numbers on November 2nd. The company had a GAAP loss of 17 cents a share, which beat the consensus by two pennies. Revenues fell ever so slightly from the same period a year ago to $130.7 million, some $8 million below expectations. SG&A expenses dropped slightly from the same period ago while R&D expenses rose 39% to $81.3 million. For the first nine months of FY2022, sales of Nuplazid came in at $380.7 million, an eight percent increase from the comparable period in 2021.
Recent Developments:
The biggest news around the company in 2022 was its failure to get Nuplazid's label expansion to treat hallucinations and delusions associated with Alzheimer's disease psychosis or ADP. First, its marketing application was voted down 9-3 by an AdComm Panel in June of last year. Then the FDA formally rejected it in August. That left the company with the only choice of conducting another lengthy and costly trial if it wanted to continue to pursue this effort. This was not an unexpected setback, but a hugely significant one given that ADP has roughly seven times the potential market as Nuplazid's approved indication for Parkinson's.
On a brighter note, in mid-September the FDA did accept the company's market application on a priority review status for Trofinetide for the treatment of Rett syndrome. An FDA decision on that application is scheduled to be out near the end of March.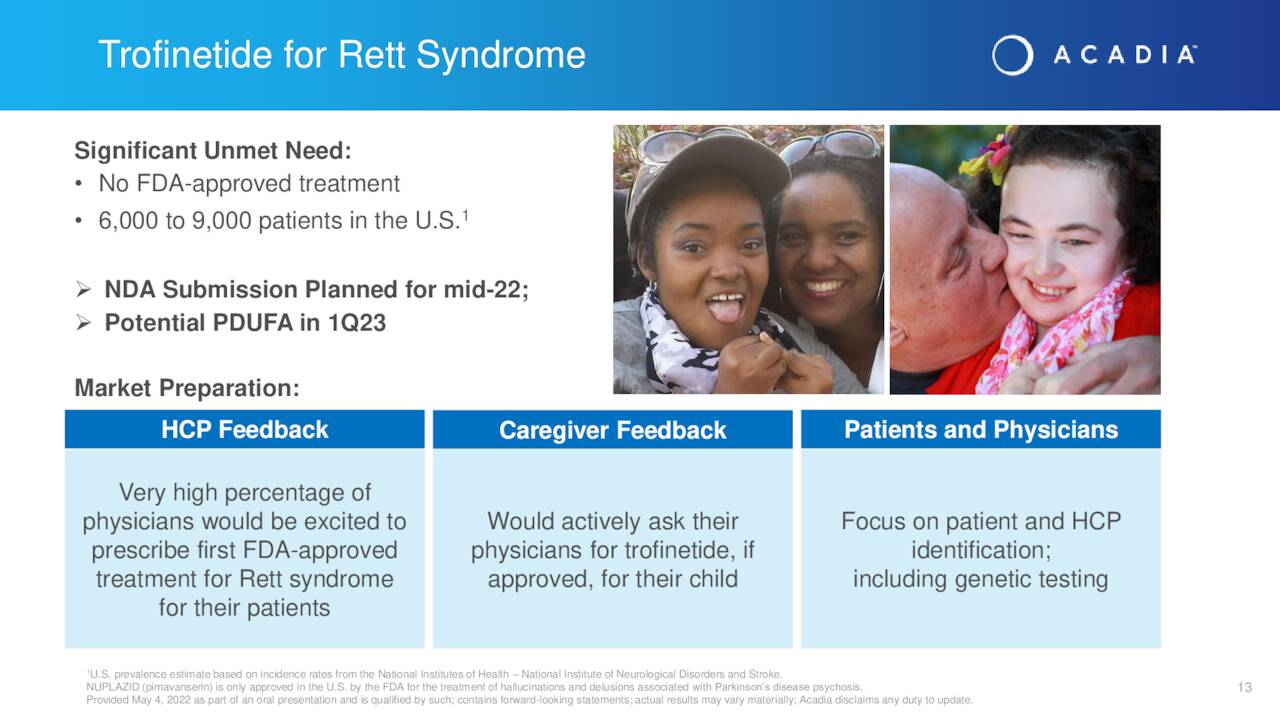 Early this year, the company released an analysis of real-world data around Nuplazid. The study "found that Parkinson's disease psychosis patients treated with Nuplazid (pimavanserin) had a lower all-cause mortality risk compared to those on atypical antipsychotics."
Analyst Commentary & Balance Sheet:
Analyst firm opinion is currently split around ACADIA Pharmaceuticals. Since third quarter results posted, a half dozen analyst firms including RBC Capital and Cantor Fitzgerald have reiterated/upgraded the stock to a Buy/Outperform rating. Price targets proffered $19 to $25 a share. Six analyst firms including J.P. Morgan and Mizuho Securities have downgraded/reissued Hold/Sell ratings on ACAD. Their price targets range from $12 to $17 a share.
Here is the commentary from Goldman Sachs who downgraded the stock to a Sell from a Hold on November 4th and cut its price target to a Street low of $12 from $15 previously.
Nuplazid's future is negatively impacted by in-person office visits and long-term care facility occupancy rates that are below pre-pandemic levels; pricing constraints due to the Inflation Reduction Act; and limited expansion opportunities after the US FDA rejected the drug for Alzheimer's disease psychosis."
Approximately seven percent of the outstanding float of the stock is currently held short. Insiders were frequent but very small sellers of the stock in 2022. In the fourth quarter, they collectively disposed of approximately $83,000 worth of shares. The company ended the third quarter with just over $435 million worth of cash and marketable securities on its balance sheet after posting a net loss of $27.2 million for the quarter. ACADIA has burned through just less than $85 million worth of cash over the first nine months of FY2022.
Verdict:
The current analyst firm consensus has the company losing $1.32 a share in FY2022 as revenues rise just over six percent to $515 million. Sale growth is projected to double in FY2023 and losses cut for ACADIA to 78 cents a share.
Outside of a buyout by a larger drug concern, it is hard to see significant upside in ACADIA until it can substantially boost revenue growth and move closer to profitability.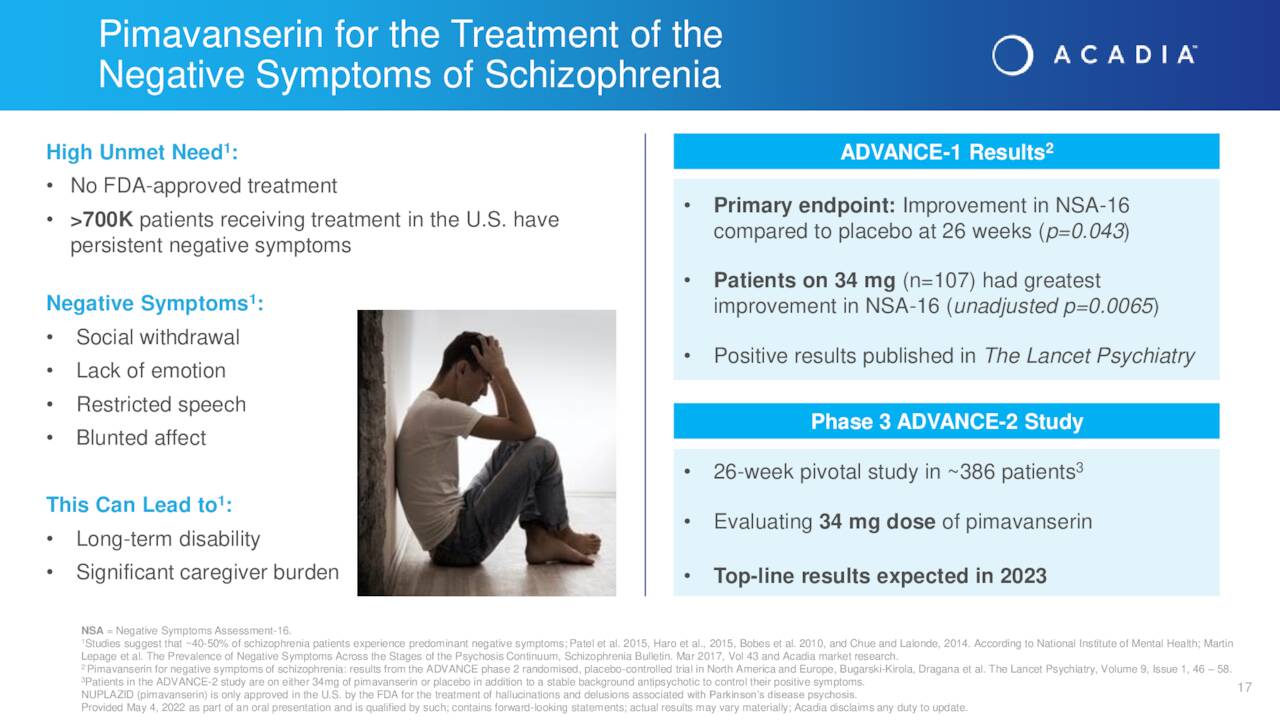 Approval of Trofinetide for the treatment of Rett syndrome at the end of this quarter will be a nice win for the quarter, but is unlikely to "move the needle" for the stock as it applies to a small potential population. In addition, Nuplazid has potential to treat the negative symptoms emanating from Schizophrenia. Results from a pivotal Phase 3 study ADVANCE-2 should be out this year. A previous study ADVANCE – 1 produced positive results. However, this is likely to marginally additive to ACADIA's value with Citigroup on record saying approval would add an additional $1 or $2 a share of value.
I expect ACADIA Pharmaceuticals shares are likely to remain rangebound over the next few quarters. I have successfully been trading ACADIA over the years via covered call orders whenever the shares get near the lower end of their trading range. Options against this equity are liquid and provide an acceptable return. That will remain my trading strategy around ACADIA Pharmaceuticals Inc. as we begin 2023.
The brave may fall, but never yield."― Latin Proverb