Overview
The buy case for CareMax, Inc. (NASDAQ:CMAX) is based on the company's ability to provide solutions for managing chronic diseases and value-based care for the elderly population. With the aging of the population in the U.S. and the increasing healthcare costs, the Medicare market is expected to grow in the coming years. The company's unique healthcare delivery model, which prioritizes care coordination through the use of vertically integrated ambulatory care and community-centered services, is designed to improve patient outcomes and lower healthcare costs.
Additionally, CareMax, Inc.'s emphasis on serving dual-eligible patients (those eligible for both Medicare and Medicaid) is expected to result in increased revenue and profit margins. The company's proprietary technology, CareOptimize, also plays a key role in the company's future growth by providing clinical decision support and automating interventions at the point of care to increase providers' productivity. CMAX also has strategic partnerships in place to expand its reach in a large total addressable market ("TAM").
Business description
CareMax, Inc. functions as a digital healthcare network. Solutions for managing chronic diseases and providing value-based care are what they offer to the elderly population.
More seniors and higher healthcare cost in the U.S.
By 2030, the elderly are projected to make up a sizable proportion of the U.S. population, with their numbers increasing by as much as four times the rate of other demographics. The Medicare market, which is already sizable, is expected to expand in response to the aging of the population. From 2021 to 2030, Medicare is projected to have the highest CAGR of any major payer, at 7.2%, according to CMS.
Another major issue is the ever-increasing cost of healthcare. According to CMS, by 2021, healthcare expenditure in the U.S. had reached $4.3 trillion, accounting for a sizable share of GDP. The Medicare-eligible population has a higher concentration of healthcare spending than the general population because of the prevalence of chronic conditions. Statistics show that chronic diseases are responsible for about 75% of total healthcare expenditure in the US.
As Medicare Advantage continues to gain market share, I believe value-based primary care [VBC] will become more widely accepted as a viable strategy for reducing healthcare expenditures.
The CareMax solution
CareMax, Inc. currently runs 60 medical centers in Florida, New York City, Tennessee, and Texas, primarily for the Medicare Advantage population. CMAX clinics provide high-quality medical and social services to their patients, as well as round-the-clock access to care from in-house doctors and nurses. To put it simply, CMAX has developed a unique healthcare delivery model that prioritizes care coordination through the use of vertically integrated ambulatory care and community-centered services. The core of CMAX solution is to improve patient outcomes and lower healthcare costs. This is done by proactively, holistically, and individually manage members' chronic conditions. Another thing to note is, most of CMAX's Medicare Advantage patients are dual-eligible, meaning they are both Medicare and Medicaid recipients, and therefore eligible for low-income subsidy programs.
In my opinion, CMAX's decision to target patients who are eligible for both Medicare and Medicaid will result in increased revenue and profit margins. It's not just the expanding size of CMAX's target market (dual-eligible patients) that makes the company interesting; I think the emphasis it places on "duals" is what makes the company stand out. Higher acuity patients mean higher revenue per member for providers like CMAX, and they also present opportunities to improve population health by addressing both medical and social determinants of wellness. Increases in realized cost savings lead to higher profits for each individual member.
CareMax, Inc. offers a vertically integrated model and proprietary technology to VBC
Patients in underserved communities who face massive social barriers to obtaining health care are among the people CMAX is most concerned with serving. With its emphasis on comprehensive care for the whole person, I believe CMAX can overcome these obstacles with its vertically integrated solution.
CMAX's proprietary technology, CareOptimize, is the backbone of this vertically integrated model. CareOptimize collects data from various sources and analyzes it to provide clinical decision support and automated interventions at the point of care. The goal of this method is to increase providers' productivity by facilitating their delivery of consistent and coordinated care that leads to better outcomes at a lower cost. This proprietary technology also helps with CMAX future growth. CareOptimize's large installed base, in my opinion, can shed light on which regional markets are most promising for CMAX hospitals.
Strategic partnerships in place to grow in a large TAM
Following the signing of the agreement with Anthem, CMAX intends to open fifty centers in eight target states. CMAX and Related have also formed a partnership whereby Related will provide advice to CareMax on the development of new medical facilities across the country.
About 1 million people in the target demographic who are eligible for Medicare are considered the core addressable market for CMAX services. With an average member revenue of $12,914, I estimate that this market is worth well over $12 billion annually in healthcare spending. However, the current market for CMAX only accounts for a tiny percentage of this enormous market potential. CMAX has developed an innovative care model that I believe can be applied on a national scale; as a result, I anticipate that they will strategically expand into new regions to increase their market share.
CMAX, in my opinion, has the background and infrastructure to support its growth. CMAX has a head start in understanding the healthcare landscape in target markets thanks to CareOptimize's national client base. This knowledge would reassure upper management that the CMAX care model will produce positive results in targeted, just as it has in the past in South Florida.
Acquisition of Steward Health Care System
In my opinion, buying Steward will increase CareMax, Inc.'s value. Steward's ACO is one of the largest in the country, with over 6,000 doctors and 40,000 other medical experts on staff.
One immediate effect of the deal would be the creation of one of the largest independent senior-focused VBC platforms in the United States, serving an additional 170,000 VBC patients. It would also increase CMAX's geographic reach to 24 new markets and give them access to Steward's patients and beneficiaries, significantly expanding CMAX's managed service organization [MSO] model.
With CMAX's expertise as a leading operator across its clinics and affiliate providers, I believe CMAX can boost patient satisfaction, boost health outcomes, and reduce medical costs. By 2025, the transaction was anticipated to contribute annual revenue of between $1.6 billion and $1.7 billion and annual Adjusted EBITDA of between $100 million and $115 million, along with additional opportunities for growth and cost synergies. Long term, I'm looking forward to seeing CMAX carry out its strategy to generate an additional $400 million to $550 million in adjusted EBITDA synergies.
CareMax, Inc. forecast
I believe CMAX has 29% upside. My model indicates that it is worth $5.84 in FY23. There are 2 main drivers here: (1) the overall healthcare expenditure growth; and (2) CareMax, Inc.'s ability to expand its presence to capture more share. I believe both are progressing well and CMAX should continue to grow at a fast rate. I also think that growth should be able to last for a very long time given the huge TAM, so long as CMAX can integrate the Steward deal properly and execute its growth plans.
Using consensus estimates, CMAX should generate around $1.04 billion in revenue in FY24, taking into account the Steward deal. If we assume CMAX is to trade at the same forward revenue multiple, the stock is worth $5.84 in FY23, or 29% more.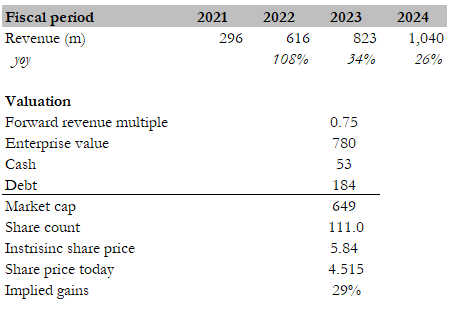 Key risks
Risk of a full-capitation model
To better serve its Medicare Advantage and dual-eligible members, CMAX uses a full-risk capitation model, which means it is responsible for 100% of the costs associated with providing those members with healthcare. Since its doctors are salaried employees, they don't have any financial stake in the outcomes of their patients' care and the company's model places all downside risk on the company.
Model might not work outside of South Florida
CMAX established itself in the south Florida market, which has a long history of adopting capitation models. CMAX's plan for growth relies heavily on reaching beyond the borders of that market. There are dangers of execution and model portability when expanding into new markets that are not used to value-based or capitation models.
Conclusion
CareMax, Inc. is an online healthcare network with a particular emphasis on providing high-quality care to seniors suffering from chronic conditions. There will be more people over 65 in the United States, which means the Medicare market will expand. Care coordination is at the heart of CareMax, Inc.'s innovative healthcare delivery model, which also makes use of vertically integrated ambulatory care and community-centered services to, among other things, boost patient outcomes and reduce healthcare costs.