Elevated input prices enveloped the main U.S. facility of Century Aluminum Company (NASDAQ:CENX) and left the company struggling with a trimmed production mix against the backdrop of a challenging environment. However, the company sustained the suppressed quarterly profitability thanks to the accumulated strong results and management's commitment to the optimization of cost structure and exposure to spot energy prices.
I believe Century Aluminum Company has plenty of room to cover the negative impact of energy prices due to strong aluminum tailwinds and expansion plans of value-added product lines. Although the current valuation of CENX suggests a noticeable premium to the main competitors, I gave the stock a Hold rating.
Financial results
In the third quarter of 2022, shipments were down by 11.4% due to fully curtailed operations at Hawesville smelter. In particular, U.S. volumes decreased by 19% YoY, while Iceland volumes remained resilient, which combined with favorable pricing resulted in 9.6% YoY higher total sales to $637 million.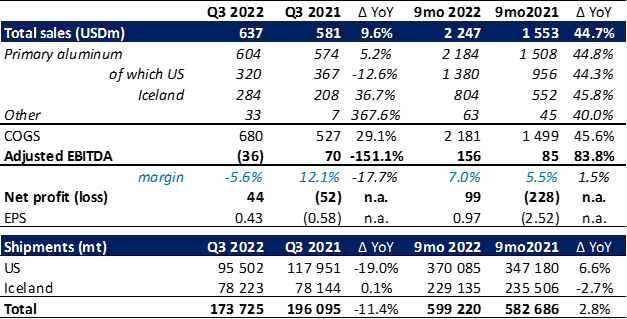 The curtailment of the company's largest U.S. facility, though limited the operating costs increase, caused a $36 million Adjusted EBITDA loss for the quarter, compared to a positive figure of $70 million on the EBITDA line a year ago. However, the 9mo 2022 results didn't back down, as the two consecutive strong quarters since the beginning of the year brought total sales up $2.3 billion (+44.7% YoY), adjusted EBITDA of $156 million, and $0.97 net profit per share, compared to $2.52 loss per share in the base period last year.
Outlook and valuation
Despite the ongoing slowdown in manufacturing activity and recession expectations, which is especially prominent in the EU, the aluminum market seems to have stabilized after a correction in the first half of 2022. The expected risks of a downturn have already been priced in, the bottom is likely found, and now, one might expect a rebound or at least consolidation in a wider range rather than a continuation of the fall.
The aluminum has a strong secular growth drivers associated with the shift to electric vehicles, renewable energy and sustainable packaging. The trends I used to write about in previous articles. With the stockpile at the lowest levels, the demand for aluminum products will be underpinned firmly, once the current destocking cycle unwinds.
Additionally, the company has a significant portion of specialty value-added aluminum production in place, which is realized at a premium compared to standard-grades, and will support the Century's profitability going forward. When it comes to curtailed Hawesville, I believe the management will undertake a prudent decision about when to restart the facility. Though the company can afford another quarter of plant downtime due to still favorable prices, the facility should be brought back to sustain production. Moreover, the execution of expansion and optimization of value-added product lines continues, which will allow to match the long-term tailwinds in strategic verticals. The following represents a quote from the earnings call:
We expect the first phase of our debottlenecking program to be completed by year-end, enabling an additional 10,000 metric tonnes of billet to be sold into the 2023 market. We will also enter the U.S. slab market for the first time next year and expect to sell around 10,000 metric tonnes of slab.
While on the one side, high energy prices impacted Century's production capacity, on the other side, there are cheap energy prices in Iceland. Bearing in mind the former, I expect U.S. sales to dip in Q4 further by 10% YoY, while considering the latter, I see Iceland sales to grow by 35% YoY.
Overall, I assume Q4 total sales to register a 5.7% increase, where lower shipments should be offset by favorable pricing. 2022 full year top-line is forecasted to grow by 33% to $2.9 billion, reducing to $139 million EBITDA (-20.4% YoY) on a margin of 4.7%.
Valuation
CENX is currently valued by the market at $971 million, which puts Enterprise Value at $1.4 billion when adjusted for a cash position of $65 million and IB liabilities of $535 million. Compared to Alcoa (AA) and Norsk Hydro (OTCQX:NHYDY), Century is trading at a noticeably higher EBITDA multiple.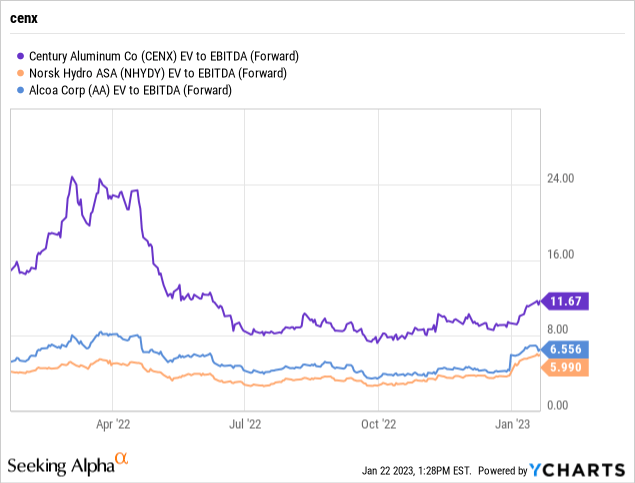 Applying my estimate of $139 million EBITDA for 2022, CENX is quoted at a forward EV/EBITDA multiple of 10.4x. According to the Seeking Alpha data, the sector's median forward EV/EBITDA stands at 7.52x. This means that Century Aluminum is trading at a premium of around 38% to the sector's players.
I would recommend staying with the CENX stock, but there should be something to bring the valuation more in line with the median. Indeed, I believe that the Hawesville reboot, along with capacity expansion and optimization should bring the company's EBITDA line to a $180-200 million level of profitability. Once the current destocking cycle concludes, this process will start gearing, as the demand side should trigger stockpile accumulation.
Risk factors
Further elevation of energy prices could result in a prolonged idling of the Hawesville facility, thus dampening volumes and financial results. Longer-term macro turbulence could derail end-markets demand and narrow value-added premiums. Century Aluminum has a supply contracts with Glencore (OTCPK:GLCNF), which supplies a large part of its alumina needed for production and is the largest customer for CENX's aluminum. While agreements are long term and provide for some level of reliability, a concentrated customer base among a small number of customers is a risk.
Conclusion
To sum up, I recommend a Hold action on Century Aluminum Company stock and patience until the suppressed macro environment unwinds and unrolls the company at a full capacity run rate. This should power financial results, and Century Aluminum Company valuation should converge gradually to the sector median. But it will take a while.
Editor's Note: This article discusses one or more securities that do not trade on a major U.S. exchange. Please be aware of the risks associated with these stocks.