Humor can get in under the door while seriousness is still fumbling at the handle."― G.K. Chesterton
Today, we take our first look at communication equipment company Lumentum Holdings Inc. (NASDAQ:LITE). The stock is off some 40% from highs this summer and appear cheap enough for an initial position. An analysis and trade idea follow below.
Company Overview
Lumentum Holdings Inc. is headquartered in San Jose, California and has R&D, manufacturing, and sales offices globally. The company designs and manufacturers optical and photonic products that enable optical networking and laser applications worldwide. Its optical components and subsystems are part of virtually every type of telecom, enterprise, and data center network. In addition, Lumentum's lasers are also used to advance manufacturing techniques and applications such as next-generation 3D sensing capabilities. The stock currently trades for around sixty bucks a share and sports an approximate market capitalization of $4.1 billion. Its fiscal year ends on June 30th.
In late 2021, the company announced it was acquiring NeoPhotonics (NPTN) for $16/share in cash. This deal included an approximate 40% buyout premium and was financed by just over $900 million of Lumentum's cash balance. The deal closed last summer. NeoPhotonics was doing some $80 million a quarter of revenue at the time of the purchase.
First Quarter Results:
The company posted third quarter numbers on November 8th. The company achieved non-GAAP profit of $1.69 a share, 13 cents above expectations. Revenues grew 13% on year-over-year basis to nearly $507 million, approximately $9 million over the consensus. A solid quarter on a headline basis.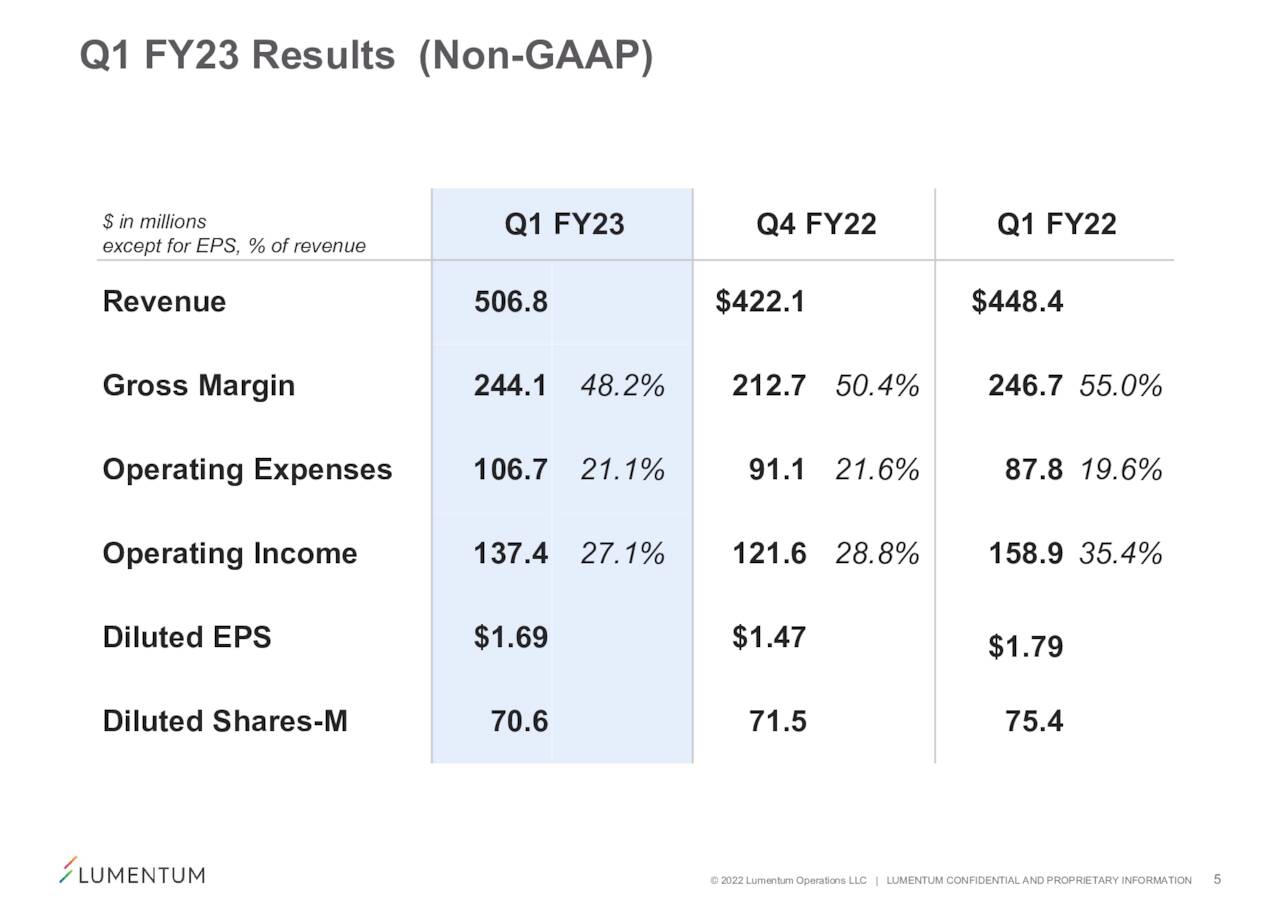 Revenue growth was driven primarily by its Telecom & Datacom business thanks to solid demand and the NeoPhotonics acquisition.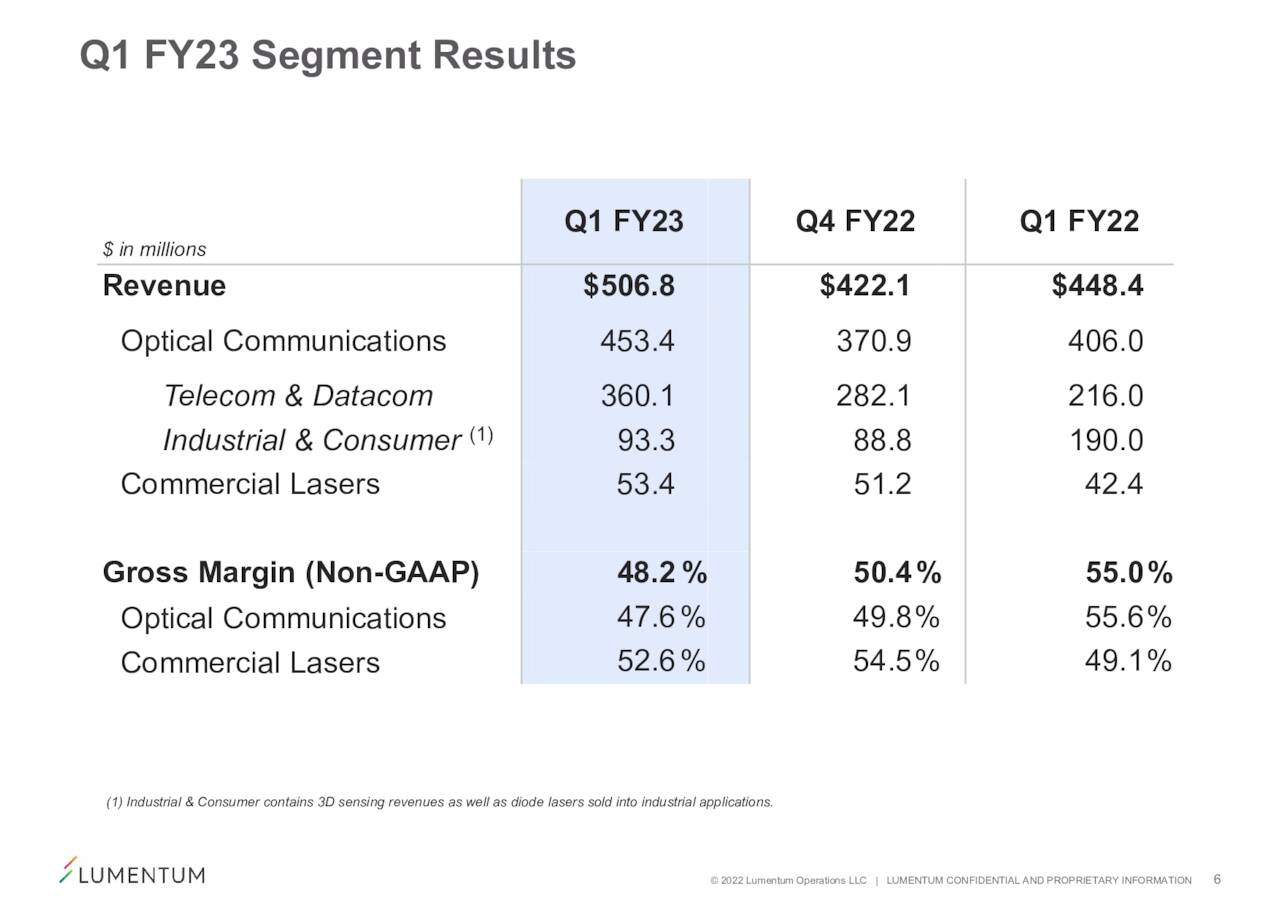 Unfortunately, this appears to be as good as it gets for a while. The stock was hit hard post earnings on disappointing guidance from management. The company now expects $1.20 to $1.45 a share in non-GAAP profit in Q2 on between $490 million to $520 million in sales. The analyst firm consensus at the time had $1.60 a share of earnings on $530 million in revenue penciled in for 2Q2023.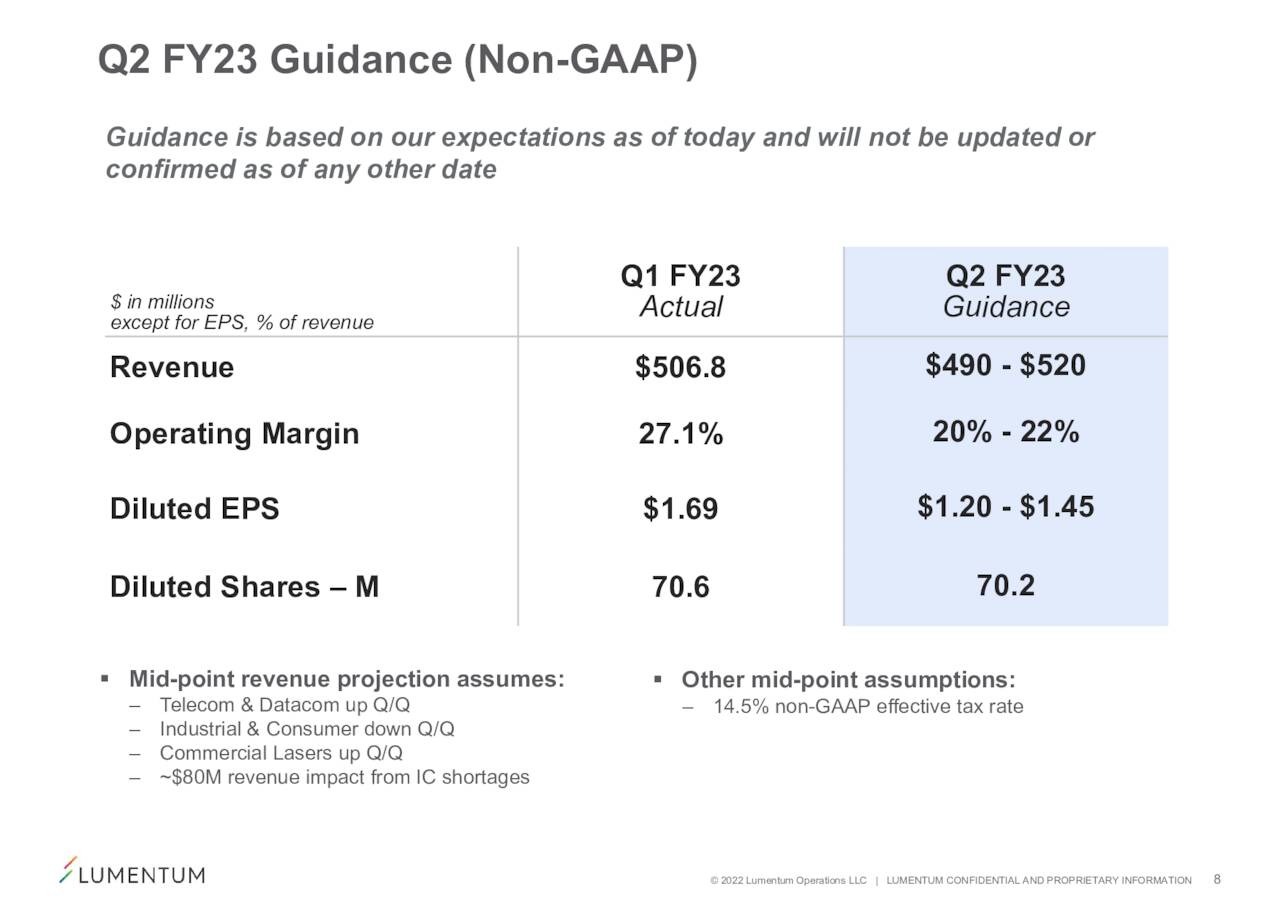 The company continues to be bedeviled by some supply chain challenges. The revenue impact of chip shortages is projected to be approximately $80 million at the end of the second quarter, which would be similar to that of the first quarter.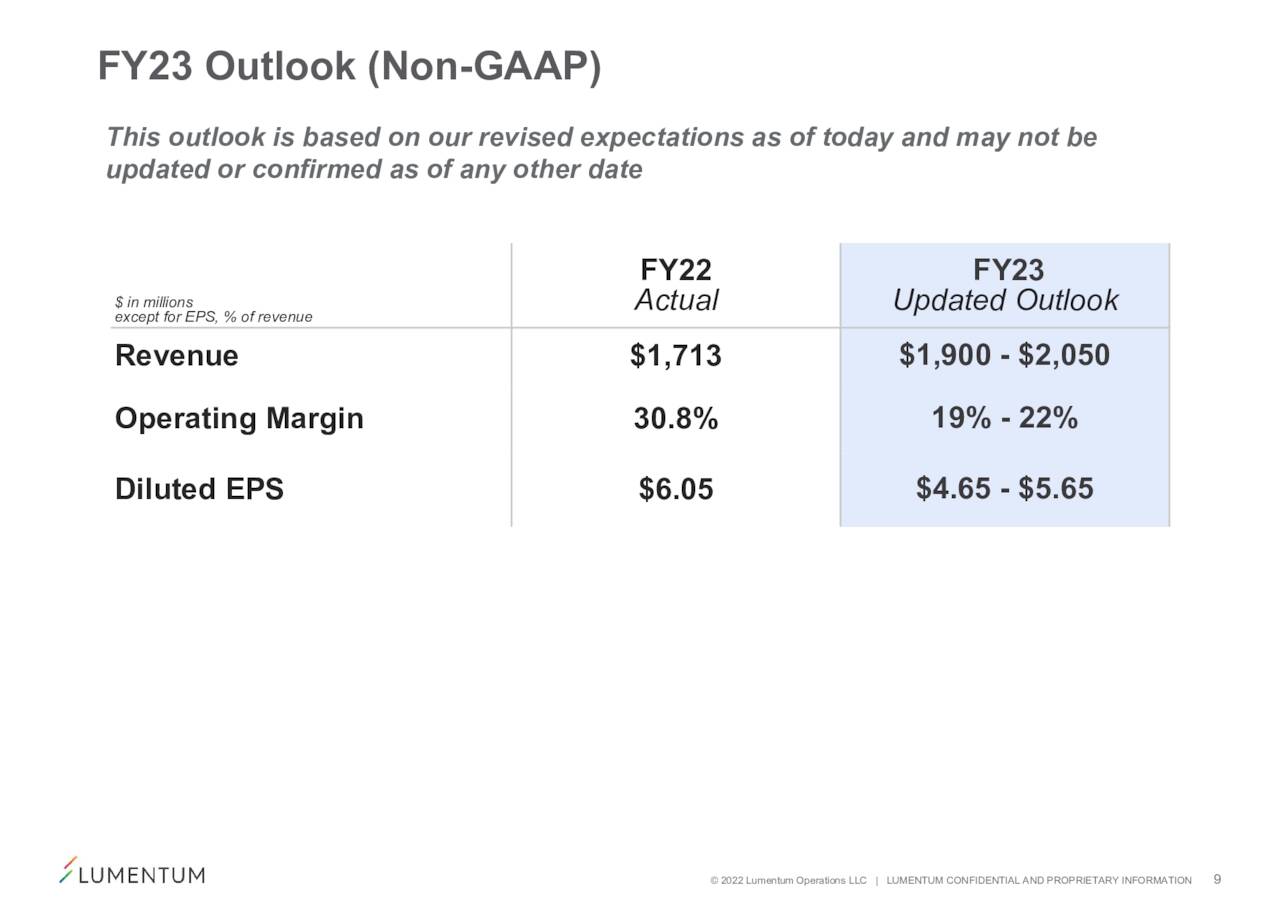 The company took its full year sales guidance down some 9% from previous projections. The anticipated fall in margins from chip supply issues it expects to last throughout FY2023 and the new product mix as a result of NeoPhotonics purchase means earnings are projected to fall in FY2023 even as sales increase some 15%.
Analyst Commentary & Balance Sheet
Bank of America downgraded the stock to Hold with a $62 a share price target soon after first quarter results were posted. Three other analyst firms including JPMorgan ($66 price target), UBS ($50 price target) and Morgan Stanley ($66 price target) have also reissued/initiated Hold ratings since first quarter data came out. Stifel Nicolaus took the contrarian route and initiated the shares as a Buy with a $68 price target while Rosenblatt Securities ($74 price target) and Craig-Hallum ($75 price target, down from $80 previously) maintained Buy ratings on LITE post first quarter results.
Approximately nine percent of the shares outstanding are currently held short. There has been little insider activity in the shares in recent months. The last insider transactions of note happened in August of last year when several insiders sold just over $2 million worth of equity in aggregate at an average price realized in the high $80s.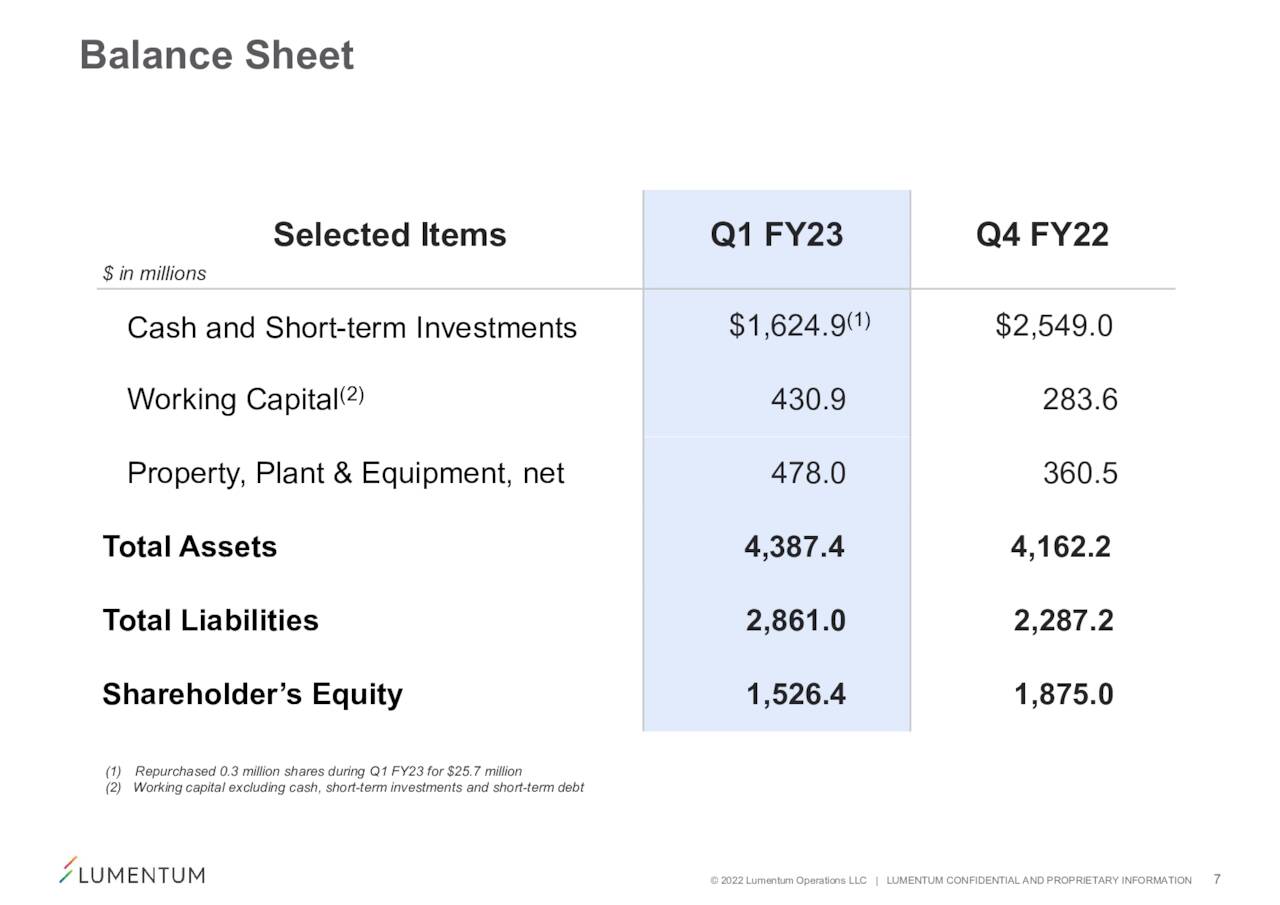 The company's balance sheet is in good stead with just over $1.6 billion in cash and marketable securities held on it as of the end of this first quarter. The company bought back just over $25 million worth of shares in the quarter. Lumentum has an aggressive stock repurchase program and has bought back 9.4 million shares for $815.5 million over the last six quarters. The firm has approximately $1.9 billion in long-term debt.
Verdict
The current analyst firm consensus has the company earning $5.17 a share in FY2023 as sales grow some 15% to $1.97 billion. The projection is for $5.97 a share of profit in FY2024 on 10% revenue growth.
With the recent pullback, the stock trades at under 10 times trailing earnings and less than 12 times anticipated earnings this year. Sales growth should be negative in Q3 thanks to seasonality but rebound strongly in Q4 based on management commentary.
FY2023 feels like a 'trough' year for the company. Chip shortages should wane as global supply issues finally get resolved as China fully opens up and global economic activity cools (easing demand for chips). Lumentum should start to achieve some additional synergies as its recent NeoPhotonics purchase becomes further integrated into its operations.
Earnings are projected to rebound in FY2024, Lumentum's balance sheet is in good shape and its aggressive buyback program should provide some support for the shares.
Even with recent rebound in the shares, the stock is still down more than 40% from 52-week highs and some 20% lower than before it posted first quarter results. This feels like a name I want to slowly accumulate in anticipation of things becoming more positive for the firm as we get closer to FY2024.
Therefore, I have taken an initial position in LITE via covered call orders utilizing the June $55 call strikes for a net debit of $50.80 a share (net stock price – option premium). This strategy provides downside protection of just over 15% and roughly 8% upside potential even if the stock falls back to the $55 level over the next five months. This trade will allow me to either start to accumulate LITE at significantly lower levels or pick up a 'synthetic' 8% dividend. Either outcome I am fine with setting up a win-win trade.
Many much-learned men have no intelligence."― Democritus