Co-produced with Treading Softly
How can you have a "rich retirement?" To be rich means to have an ample supply of cash, capital, or a high net worth. The best way to generate such an overage is to have a high cash flow into your brokerage accounts.
Being wealthy means having a large enough asset base that the income it produces exceeds your expenses. This allows you to take the excess income and reinvest it into more income-producing assets. As your wealth grows, so does your income. Nothing quite makes money, as money does.
I have written numerous times about how being wealthy will routinely default you into being rich as a byproduct, but being rich does not mean you are wealthy. More than one person with a $1 million+ income managed to blow it all.
For a rich retirement, you either needed to have stockpiled those excess dollars during all your working years, or you must find a means to generate a high level of income now – hopefully without working!
My personal investment philosophy – The Income Method – utilizes immediate income investing as a means to generate a high level of income today to meet your expenses head-on. Most importantly, you can provide a high enough income that you have an excess to reinvest and grow your asset base further.
Today, I want to look at two great opportunities to enjoy a rich retirement through the income they provide.
Let's dive in.
Pick #1: GHI – Yield 8.8%
Greystone Housing Impact Investors, LP (GHI) had an incredible 2022, ending the year with CAD (Cash Available for Distribution) of $2.37/unit. This led GHI to pay out supplemental distributions for a total distribution of $2.109/unit for the year. That is a realized yield that is well into the double-digits at the prices GHI traded at throughout the year.
Don't get used to it. Going forward, we should expect payouts to be much closer to the "regular" distribution, which is set at $0.37/quarter. $1.48/year is a more accurate reflection of the distribution that investors can expect to be recurring.
We can thank GHI's "Vantage" joint venture for the excess distributions in 2022. They realized $39.7 million in capital gains selling properties in 2022, and GHI passed along a substantial portion of those gains to investors.
The Vantage JV follows a strategy of developing apartments, renting the units, and selling them when occupancy stabilizes. It typically takes about three years for this process to happen. As a result, the proceeds from these sales are lumpy, but are also extremely lucrative. Investors are happy to pay a premium for a property that is already leased up and all the hard work has been done. GHI plays the role of providing capital, with a preferred investment that recovers a fixed amount, and then the partners split the gains after the preferred investment is paid off.
Last year, conditions were exceptionally favorable to be selling apartments. Rent was rising and interest rates were still low in the first half of the year when most of these sales occurred. Today, rents are slowing down and interest rates are high. However, despite that, the JV did manage to realize sales of two properties, paying GHI a $244k preferred return, plus $15.2 million in capital gains (about $0.67/unit).
This strategy has been very successful for GHI, and it is expanding it. There are three more properties where construction is completed and leasing is underway (Conroe was announced listed for sale on March 6th), four more that are under construction, and three that are in the planning stages. Source
This will ensure that GHI has a steady pipeline of properties that could be sold. The problem is, that you can't control when a buyer wants to buy. The last two sales sold at $196,000 and $180,000/unit. This is lower than the prices that the JV was able to achieve last year but still higher than seen in 2021.
With interest rates higher and a lot of uncertainty about the economy, any additional sales closed this year should be considered a cherry on top. The good news is that the sales already closed provide a lot of cushion for the distribution payout, and it might even provide enough for a small supplement/special at year-end.
GHI's other core business is investing in "mortgage revenue bonds", these are bonds issued to developers who are building low-income housing. The decline in bond prices has impacted the MRB market, just like it has every other type of debt. This has been a headwind to book value, and rising interest rates are a slight headwind to earnings. GHI has hedged itself very well, but another 100 bps in rate hikes would reduce earnings by approximately $0.022/unit for the year.
The good news is that if interest rates started coming down, GHI would benefit from this portion of the business. Higher yields reduce the value of held loans, but it also makes it cheaper to buy new loans. GHI's most recent MRBs have coupons of around 6.5%.
GHI is a great choice for an investment that would benefit from declining interest rates, but has shown great resilience in holding up to rising rates. We can thank the Vantage JV strategy for that. The combination of two strategies that are completely different, creates a company that is capable of producing a great return in any environment. We can't count on $2+ in distributions for 2023, but we can be very confident that the $1.48 in regular distributions is sustainable.
Pick #2: GLP-B Preferred – Yield 9.3%
Global Partners LP (GLP) is a large fuel distribution master limited partnership that has strongly rewarded its investors through all of 2022.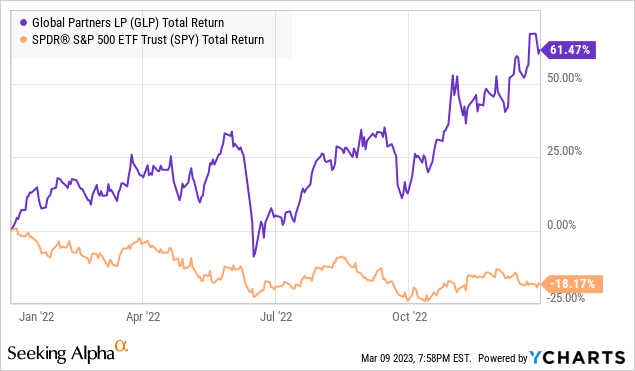 GLP strongly trounced the overall market due to expanding fuel margins. GLP, through its wholesale and retail fuel distribution and convenience store network, enjoyed strong returns as fuel demand picked up, and gasoline prices climbed swiftly through 2022.
GLP benefits from buying gasoline at wholesale prices, and when prices rise as they move it to their gas stations, they benefit from the higher price. Furthermore, the convenience store sector is largely fractured with many small mom-and-pop operations, so when prices rise and then fall again, those small locations are unable to afford to drop prices. This allows GLP to match their prices while benefiting from moving more volume than their competitors.
This all added up to a banner year for GLP and other fuel distributors. GLP covered their common distributions by 2.6x after factoring in the preferred dividends over the course of 2022. This includes their large special distribution.
However, at this time, GLP's common shares are likely to see a retracement in their climb higher. GLP's common yield is currently just over 7%. So why do we expect GLP's common shares to fall in value? The key metric to watch is fuel margins – the prices GLP gleans from the price they pay for fuel and the price they charge.
GLP's management is forecasting, and forewarning of a drop in this margin in 2023 as fuel demand and gasoline prices normalize:
So I think we're — our expectations and who knows what's going to happen forward. Our expectations, as we sit here today, our margins should — and we have seen this, margins should return back towards something more normal as the curve has flattened, as volatility has quieted down and as the cost of carrying inventory has decreased.

We've seen a corresponding downshift in margins towards more of a historical norm, although still at elevated levels. And without knowing what's going to happen next, I think as you look out the curve, it's reasonable to assume that those are the market conditions that we're going to be dealing with for the balance of '23. Now obviously, if there's some sort of event or demand is stronger than anticipated, which I feel like the bias is that it will underperform, not overperform. But any event, I would say inventories are still on the tighter side. So any event could send that in a different direction. But as we — based on our visibility right now, we're starting to see things trend more towards historical norms than what we saw in 2022. – GLP Earning Call Transcript
This drop in margin, tied along with higher expenses due to inflation, will put a squeeze on GLP's overall distribution coverage. We do not expect GLP will have to cut its common distribution – they elected to do a large special vs. a big regular hike, which was wise in our evaluation. However, as the market sees GLP's earnings underperforming year-over-year, we expect selling pressure to accelerate.
So if we are uninterested in the common shares due to the poor year-over-year comparisons to come, where do we find attractive yields from GLP?
Their preferred securities offer attractive risk-adjusted returns. Global Partners, 9.50% Series B Fixed Rate Cumulative Redeemable Perpetual Preferred Units (GLP.PB) currently trade over PAR but offer a high fixed yield at 9.3%. We find these more attractive than GLP's other preferred offering at this time, which trades at a wider premium and has a floating interest-rate component. GLP can call Global Partners, 9.75% Series A Fixed-to-Float Cumulative Redeemable Perpetual Preferred Units (GLP.PA) in August and is already considering tapping the bond market to pay off a recent acquisition. Tacking on the needed funds to call GLP-A would be easily done as well.
GLP-B cannot be called until 2026, providing a healthy yield-to-call of 9%. GLP's ability to pay their preferred dividends is not in question with their strong common dividend coverage. So we find GLP-B to be exceptionally attractive at this time.
The world needs gasoline and diesel to get from point A to point B. Do you have an EV? GLP is routinely adding EV charging stations to their locations as well. The world is stopping to visit their locations, and GLP provides me with a healthy income.
Conclusion
GHI and GLP-B offer high levels of income which you can rely on and enjoy. This steady flow of high-yield income will continue in good times and bad, which we all want when we know life throws curveballs regularly.
For some of us, a "rich retirement" isn't money-centric at all, but money is often the oil that lubricates the gears in life. It's hard to have fun or enjoy life when financial woes are piling up or looming all around us. I want you to have the best retirement possible, and these two picks can help you achieve that!
That's the beauty of income investing.