Today I present you an overview of deals made using the Owl strategy – smart levels for the EURUSD, GBPUSD and AUDUSD currency pairs for the week from March 20 to 24, 2023. 
For convenience and timely receipt of signals I use the Owl Smart Levels Indicator. The main trading timeframe is M15, while the H1 and H4 timeframes are used to confirm the trend direction of the higher timeframe.
EURUSD review

Last week for the asset was quite difficult: the first three trading days were conditioned by the speech of ECB Chairman Christine Lagarde, and on Thursday there was the summit of EU leaders.
This week on EURUSD has once again demonstrated what a useful tool the Owl Smart Levels Indicator is: no loss-making trades, no stressful situations untypical for professionals, no rush to win back losses on another symbol – there was just no need to open trades on EURUSD. Not a single trade that has saved a lot of time and energy, although it hasn't brought any profit.
But, since we can't trade in the market with such a "strategy", let's focus on other assets.
GBPUSD review

Fig. 1. GBPUSD BUY 0.08, OpenPrice = 1.2185, StopLoss = 1.2166, TakeProfit = 1.22441, Profit = 48.52$
The first trade opened at the tip of the Owl Smart Levels on GBPUSD has brought a positive and quite good result closed at TakeProfit.
But the very next trade tried to depreciate this success, and only correctly set StopLoss indicator helped to minimize losses.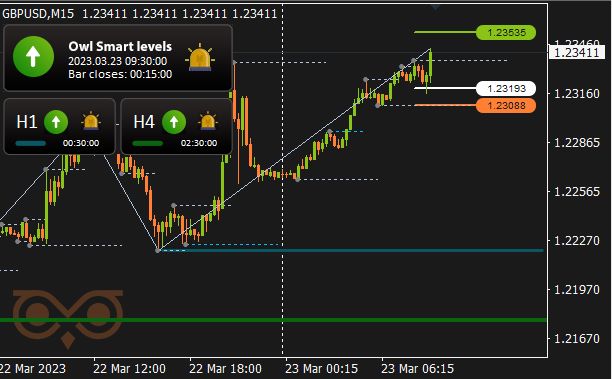 Fig. 2. GBPUSD BUY 0.14, OpenPrice = 1.23193, StopLoss = 1.23088, TakeProfit = 1.23535, Profit = -15$
It should be noted that the overall situation for the dollar was slightly better than for the euro: on Tuesday, Wednesday and Thursday there were news on the secondary housing market sales, crude oil inventories, the number of building permits issued and the number of initial applications for unemployment benefits. All these news had a strong effect on the market.
AUDUSD review

With objectively driven market volatility, the next trade, just like the previous one, unfortunately closed at StopLoss.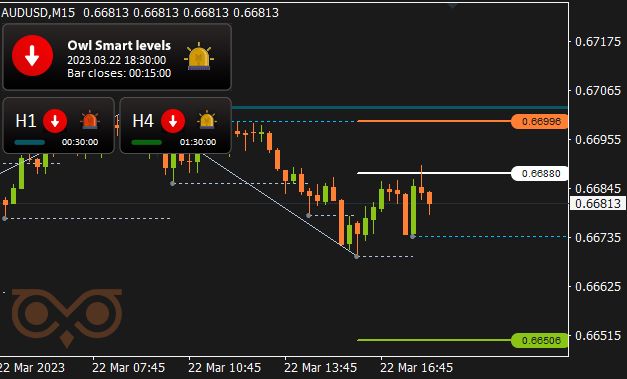 Fig. 3. AUDUSD BUY 0.13, OpenPrice = 0.66880, StopLoss = 0.66996, TakeProfit = 0.66506, Profit = -17$
This minimized the profit but still allowed us to end the week with some profit.
As you know, it is very difficult to predict the market behavior during the release of especially important news: there can be strong volatile fluctuations and gaps. Moreover, in a situation of increased uncertainty, which comes from waiting for one news after another, it is a rather tense situation in the market, and it is not recommended to trade regardless of their content.
Summary:

One profitable trade made all the Profit this week. We may say it another way: the result has been saved, due to the absence of unreasonably risky and, in all likelihood, loss-making trades, which, in fact, was saved by the Owl Smart Levels Indicator by not giving the signals for their opening.
See other reviews of the Owl Smart Levels strategy:
I'm Sergei Ermolov, follow me and don't miss more useful tools for profitable trading on the Forex market.