A Quick Take On Dropbox
Dropbox (NASDAQ:DBX) provides an array of storage and collaboration services to businesses and individuals worldwide.
The firm has produced only moderate revenue growth but strong free cash flow, yet is actually spending heavily through its high stock-based compensation activity.
Given management's anemic topline revenue growth guidance of around 4.3% and macroeconomic headwinds negatively impacting its results in various business segments, my outlook for Dropbox in the near term is Neutral [Hold].
Dropbox Overview
San Francisco, California-based Dropbox was founded in 2007 to provide users with online storage and collaboration tools.
The firm is headed by co-founder and CEO Drew Houston, who also founded SAT preparation company Accolade before Dropbox.
The company's primary offerings include the following:
File storage

File sync

File sharing

Collaboration

Mobile app

Document signature and send

Screen capture

Integrations
The firm acquires customers through its website, free trial and through its direct sales, marketing and business development efforts.
Dropbox's Market & Competition
According to a 2019 market research report by MarketsAndMarkets, the global market for enterprise collaboration was an estimated $31 billion in 2019 and is expected to reach $48.1 billion by 2024.
This represents a forecast CAGR of 9.2% from 2019 to 2024.
The main drivers for this expected growth are expected to include increased usage of mobile devices by mobile workforces, growing use of social networking websites and, more recently, the lingering effects of distributed workforces due to the Covid-19 pandemic.
Also, the managed services segment is forecast to produce the highest CAGR due to its ability to reduce operational costs, required infrastructure and IT department constraints.
North America is expected to account for the largest demand through 2024, as the chart below shows: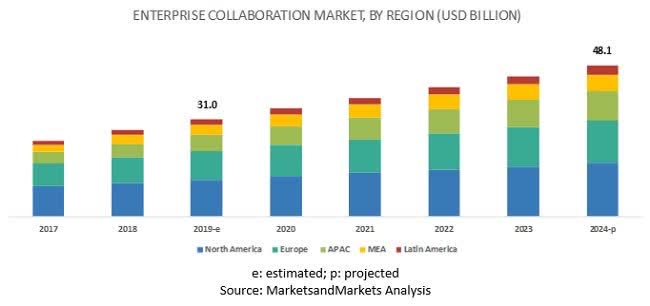 Major competitive or other industry participants include:
Google Drive

Microsoft OneDrive

Box

iCloud

Egnyte

ShareFile

Zoho Docs

pCloud

Icedrive

MEGA
Dropbox's Recent Financial Trends
Total revenue by quarter has grown per the following chart, reaching nearly $600 million in Q4 2022: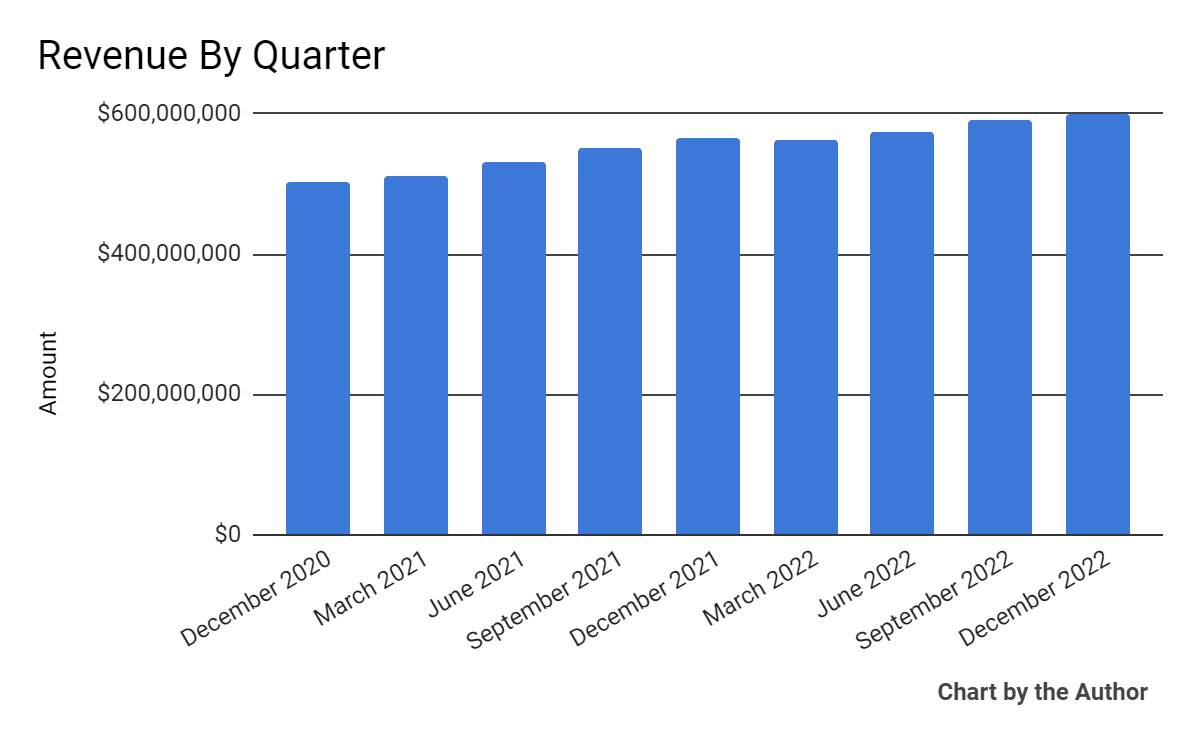 Gross profit margin by quarter has trended slightly higher in recent quarters: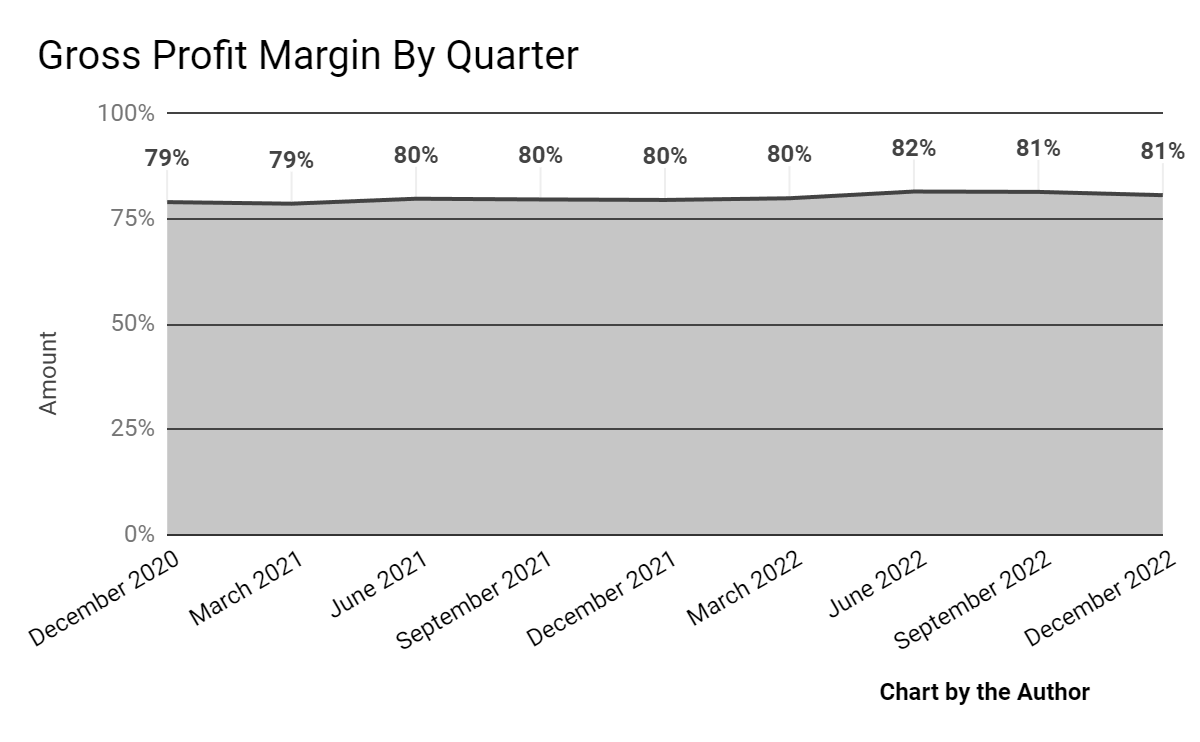 Selling, G&A expenses as a percentage of total revenue by quarter have trended lower more recently, as the chart shows here: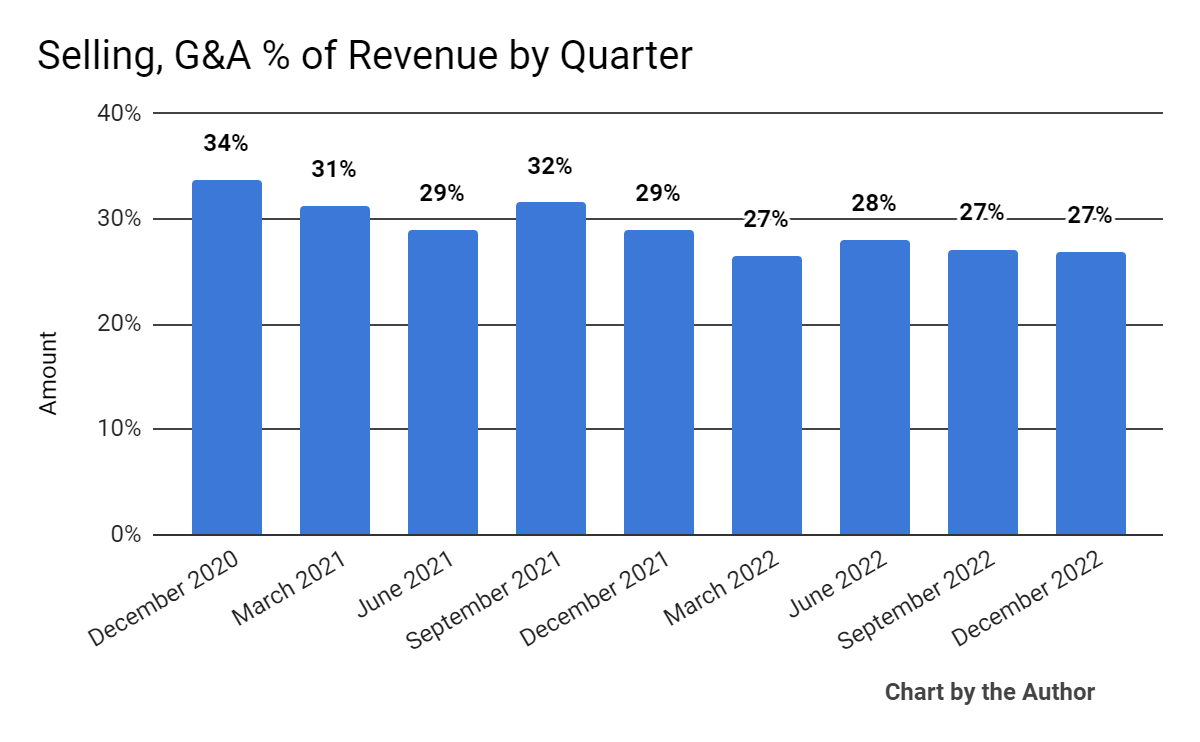 Operating income by quarter has grown more recently: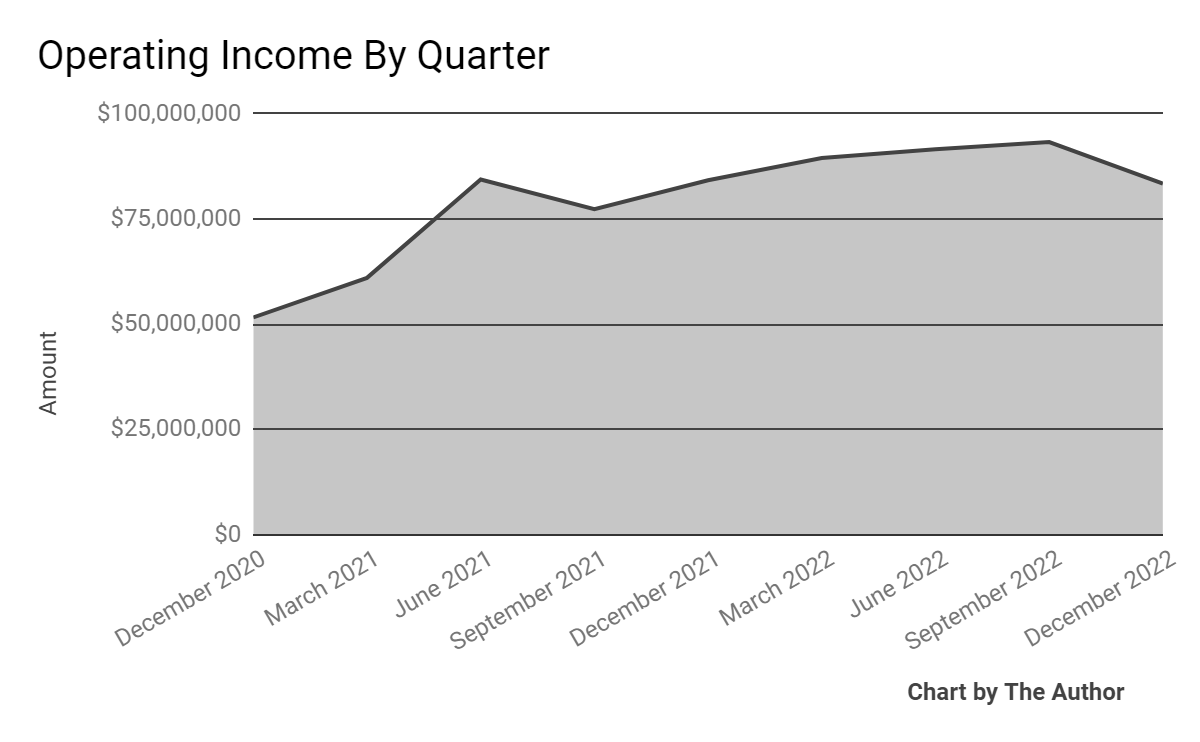 Earnings per share (Diluted) have fluctuated as the chart shows here: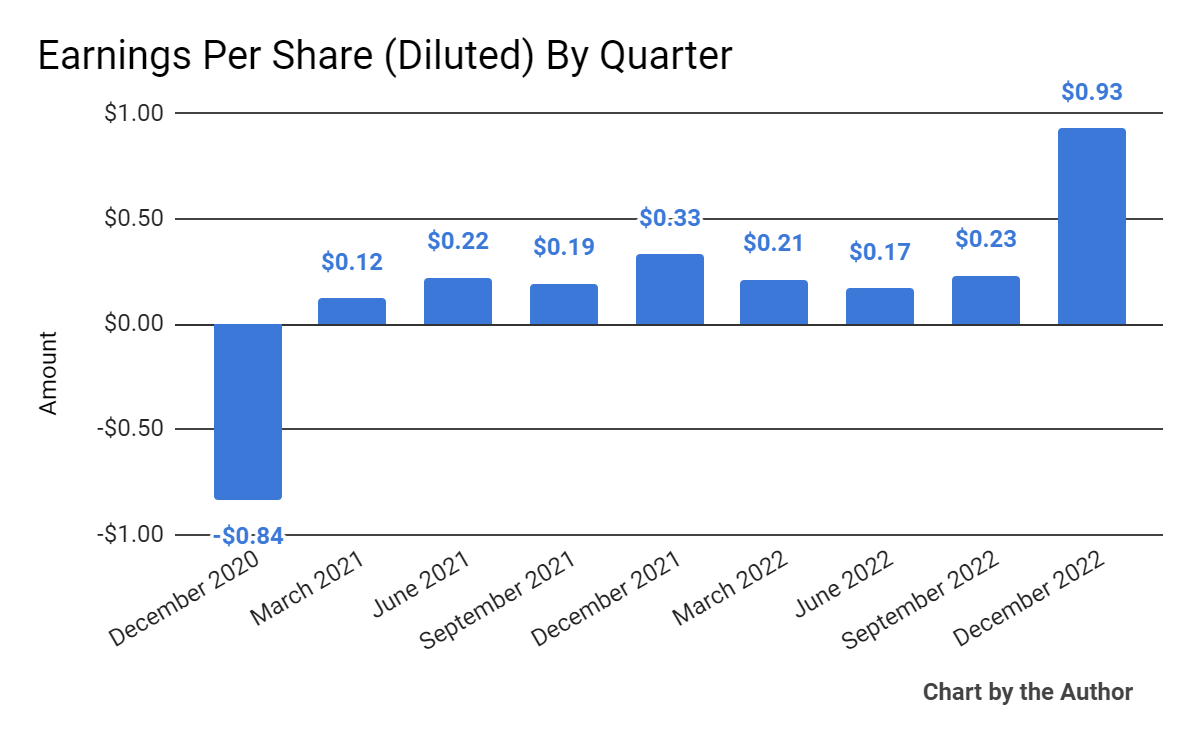 (All data in the above charts is GAAP)
In the past 12 months, DBX's stock price has dropped 7.2% vs. that of Box's (BOX) drop of 11.44%, as the chart indicates below:
Management did not disclose any company retention rates, but said that churn was elevated compared to previous quarters 'largely due to the deterioration in the macro economy.'
For the balance sheet, the company ended the quarter with cash, equivalents and short-term investments of $1.34 billion and total debt of $1.38 billion.
Over the trailing twelve months, free cash generated was $763.5 million, of which capital expenditures accounted for $33.8 million.
The company paid a whopping $330.7 million in stock-based compensation in the last four quarters. This figure continues to rise on a 12-month rolling basis and is the highest it has ever been.
Valuation And Other Metrics For Dropbox
Below is a table of relevant capitalization and valuation figures for the company:
| | |
| --- | --- |
| Measure [TTM] | Amount |
| Enterprise Value / Sales | 3.6 |
| Enterprise Value / EBITDA | 16.1 |
| Price / Sales | 3.2 |
| Revenue Growth Rate | 7.7% |
| Net Income Margin | 23.8% |
| GAAP EBITDA % | 22.2% |
| Market Capitalization | $7,340,000,000 |
| Enterprise Value | $8,290,000,000 |
| Operating Cash Flow | $797,300,000 |
| Earnings Per Share (Fully Diluted) | $1.54 |
(Source – Seeking Alpha)
Below is an estimated DCF (Discounted Cash Flow) analysis of the firm's projected growth and earnings:
Assuming generous DCF parameters, the firm's shares would be valued at approximately $21.1 versus the current price of $20.82, indicating they are potentially currently fully valued, with the given earnings, growth, and discount rate assumptions of the DCF.
As a reference, a relevant partial public comparable would be Box; shown below is a comparison of their primary valuation metrics:
| | | | |
| --- | --- | --- | --- |
| Metric [TTM] | Box | Dropbox | Variance |
| Enterprise Value / Sales | 4.5 | 3.6 | -20.7% |
| Enterprise Value / EBITDA | 46.0 | 16.1 | -64.9% |
| Revenue Growth Rate | 13.3% | 7.7% | -41.9% |
| Net Income Margin | 2.7% | 23.8% | 781.1% |
| Operating Cash Flow | $297,980,000 | $797,300,000 | 167.6% |
(Source – Seeking Alpha)
The Rule of 40 is a software industry rule of thumb that says that as long as the combined revenue growth rate and EBITDA percentage rate equal or exceed 40%, the firm is on an acceptable growth/EBITDA trajectory.
Dropbox's most recent GAAP Rule of 40 calculation was 29.9% as of Q4 2022's results, so the firm has performed moderately well in this regard, per the table below:
| | |
| --- | --- |
| Rule of 40 – GAAP | Calculation |
| Recent Rev. Growth % | 7.7% |
| GAAP EBITDA % | 22.2% |
| Total | 29.9% |
(Source – Seeking Alpha)
Future Prospects For Dropbox
In its last earnings call (Source – Seeking Alpha), covering Q4 2022's results, management highlighted its efforts to evolve its core product to do better at converting free users and to 'move beyond files and organize all cloud content for our customers.'
Leadership also intends to diversify its DocSend customer base, since it has been largely dependent on the tech industry funding vertical, which has pulled back recently.
Its Sign product has also seen headwinds due to increasing competition and lower activity.
Management seeks to expand its document management offerings as well as its video-oriented capabilities in 2023.
Looking ahead in terms of financial guidance, management expects revenue to be around $2.48 billion, or only 4.3% year-over-year growth, with Q1's results likely to present a 'trough' in a variety of metrics.
The firm ended the quarter with $748 million left on its share buyback authorization, so that should provide a floor for the shares in the immediate future.
The company's financial position is strong, with substantial liquidity and very high free cash flow.
Although, the high stock-based compensation figure is a growing concern as it is diluting equity holders at an increasing rate.
Regarding valuation, compared to competitor Box, the market is valuing DBX at a significantly lower EV/EBITDA multiple. Also, compared to a basket of publicly held application software companies as compiled by noted valuation expert Dr. Aswath Damodaran, the following table shows the company's valuation:
Metric

Public Software

Company Basket

Dropbox

Variance

Enterprise Value / Sales

7.59

3.6

-53.0%

Enterprise Value / EBITDA

21.33

16.1

-24.5%

Net Income Margin

14.61%

23.8%

62.8%
So, when compared to a basket as well as to Box, DBX is being valued by the market at lower valuation multiples, likely due to a lower topline revenue growth rate.
Also, my discounted cash flow calculation suggests that DBX may be fully valued at its present price.
The primary risk to the company's outlook is a slowing macroeconomic outlook as U.S. banks reduce lending and consumers have less credit availability.
A potential upside catalyst to the stock could include an end to interest rate hikes, reducing downward pressure on the firm's EV/EBITDA valuation multiple, which has borne the brunt of compression over the past 12 months, dropping from a high of 19.6x to its current 16.1x:
Given management's anemic topline revenue growth guidance of around 4.3% and macroeconomic headwinds negatively impacting its results in various business segments, my outlook for Dropbox in the near term is Neutral [Hold].