On the Metatrader platforms we see a rolling 24hr chart. Where as with this EA for example if we are analysing the SP 500 we look at the gap between the current days open at 16:30 and yesturdays close at 23:00. So we are in effect revealing something hidden by a normal Metatrader chart.   
Gaps occur when the price of todays open is higher or lower than the previous days closing price. Most markets will respond to news, earnings announcements, corporate scandals, and insider deals can make a currencies price for example go sky high. But Indices are made up of a number of different sectors. These individual sectors will respond differently while some stocks might go up in price others wont get affected or will sell off. Its this conflict that causes a weighing down of the overall Indice and this causes the gaps to close, often within the same day.
These Indice gaps often close more than 60% of the time. This fact alone can help give us an edge in our trading, and although thats an impressive statistic, how do you know when a gap is about to close?      
Indice Gaps Combined With HiLo Breakout Strategy Gives High Probability Trades
There are numerous ways to trade Indice Gaps using this EA and I will go into each shortly but I think the best way is in looking for when price breaks a recent high for an up gap or a recent low for a down gap. As demonstrated in the image below we see the SP500 gap closing just before price breaks a recent low.
This is effective because there is already a high probability of an Indice gap closing but also added to the fact that when price breaks a recent low its a good indication price is bearish and will likely continue being bearish at least until the close is met. This added strategy gives this system perfect timing for a truly remarkable strike rate. You can see this for your self through backtesting.
Try them out here : 
For The Free Hidden Gap MT5 Indicator Click Here!
For The Free Hidden Gap MT4 Indicator Click Here!
For The Hidden Gap MT5 EA Click Here!
For The Hidden Gap MT4 EA Click Here!
Prove Gap Stats Yourself With Info On Panel
Just to emphasize the fact that gaps close at a decent rate Ive added a panel that records this statistic giving the trader useful information in order to verify the systems efficacy.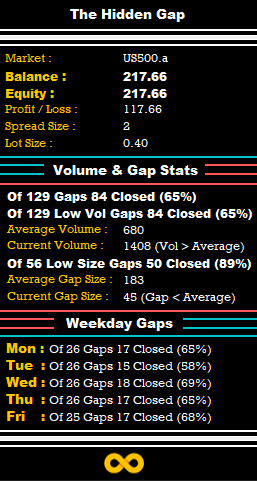 As soon as a gap occurs a count is made and recorded to panel then if the gap closes on the same day it is also recorded onto panel. We also look at gap size and days of week as they to play an important role in determining gap closure.
All in there are 4 types of statistic recorded onto panel : 
Of all gaps it shows how many closed within the same day
Of all gaps with low volume how many closed the same day – Underneath of which we see an average of volume compared to current volume.
Of all gaps with small gap size how many closed the same day – Underneath of which we see an average of gap size compared to current gap size.
Of all weekday gaps which gap closed the same day – This shows gaps that are more likely to close according to the day of week.   
These stats can help you confirm the markets gaps will close by showing the true probability over any length of time the trader wants to look at. And therefore will mean that market is likely a good choice for trading this system.   
When a gap occurs it places a trade based on distance between current open and yesturday's close. It will then trade out the position based on take profit levels and input settings. I have also left the indicator objects on chart to help trader understand the trades placed.
Am I Following The So Called Smart Money?

Think about this when a market gaps down from previous day there will be 2 groups who will panic and start selling. The 1st group who are long might start to sell as they realise the market has moved against them. And the 2nd group who arent yet doing anything see a gap down and start selling. Both have got 2 things in common they dont know what they are doing. But we know from our previous statistical observation the gap will likely close and are trading the other side. Hence we follow the smart money.
Other Ways Of Using The Hidden Gap

HiLo Break set as true is the best setting for The Hidden Gap. But, there are other ways to trade this EA.
We can set the input panel to only trade the following :   
Pre Market Low Volume set true – This will only trade when volume is below the average
Pre Market Volume is the volume of trades that occur 1 hour and 30 minutes before the markets open. For the SP500 this is between 15:00 and 16:30. 
If volume is high then markets are reacting to news and will likely cause a large gap that likely wont get filled the same day. 
If volume is under the average this shows markets aren't reacting to the news so the gap will likely close.
Low Gap Size set true – This will only trade when gap size is below average 
Gaps with lower than average gap size have a better chance of closing
Under average volume and gap size is from what I've learned through books which is all very well but the main thing is the panel which can give you a personal proof.
Any Weekday set as true then we only trade the gap on that day      
By setting whatever weekday we want as true then we can trade only those days. For example the panel shows wednesday's have a 69% chance of closing so maybe we could only trade wednesday's gaps by making all others false.
Not A Black Box EA! 

Don't Trust Me The Seller THE REAL QUESTION IS Do You Trust The System Your Trading With!  
With the many EA's and Indicators on market most of them don't actually tell you how the system works so are what is known as Black Box EA's. I don't agree with this type of trading as your putting your money at risk by trusting the system sellers algorithm and are blind to knowing what your really doing with your money. Personally if i'm risking my own money i like to know what i'm doing so is why I explain the system.
Remember the HiLo Break gives an edge to trading gaps, gaps are unique to this EA/Indicator and you can prove it yourself with panel and backtests.
Try them out here : 
For The Free Hidden Gap MT5 Indicator Click Here!
For The Free Hidden Gap MT4 Indicator Click Here!
For The Hidden Gap MT5 EA Click Here!
For The Hidden Gap MT4 EA Click Here!
I'm always there to answer any questions you might have. I have a track record of following coding requests such as addons to a product.