Electrameccanica (NASDAQ:SOLO) is recalling every single Solo G2 and G3 sold since 2019 due to an issue where they lose propulsion when being driven. The company will offer customers the full purchase price for all 429 vehicles and will issue refunds to reservation holders as all sales of the G2 and G3 get discontinued. The total financial impact is unclear at this point but is likely in the ballpark of at least $8 million against an $18,500 starting MSRP for an Electrameccanica Solo.
The recall is a somber development in an otherwise tragic story of the now Mesa, Arizona-based three-wheeled electric vehicle manufacturer. The commons are down 64% over 12 months and are currently swapping hands at a $65 million market cap, less than its net cash balance of $92.7 million as of the end of its fiscal 2023 first-quarter earnings. This was from a cash and equivalents position of $111.2 million set against debts of $18.5 million.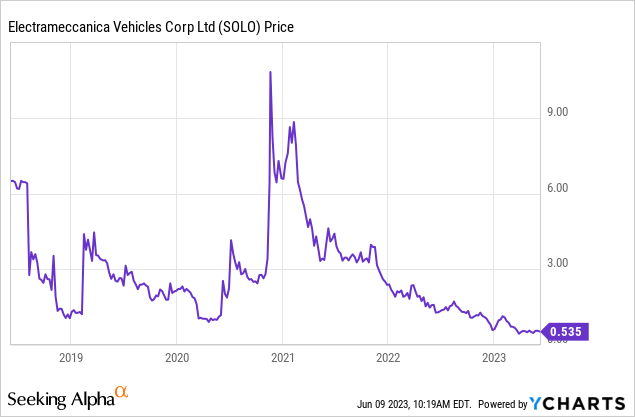 A few things for bulls to be careful of here. Firstly, the company is trading below Nasdaq's minimum listing standards at what's a 5-year low. Further, the company currently has no product on the market but flagged that it's currently developing a new product for launch. It's worrying that Electrameccanica was unable to determine the cause of the loss of propulsion and has had to resort to the nuclear option of a total buyback.
However, the company's net cash balance as of the end of its first quarter has dramatically mitigated the overall impact of the recall and has placed the company on a good footing to develop and potentially retail an updated version of its vehicle. This is the medium-term bull case against a bear case that now rests on continued cash burn.
First Quarter Earnings Render Electrameccanica's Future Uncertain
Bears, which make up the 6.85% short interest, have hinged their position on consecutive quarters of cash burn and the product recall being aggregated to cause more pressure on a balance sheet that has seen its net cash and position decline from $258.4 million in the first quarter of fiscal 2021 to its current level, a decline of $165.7 million over two years and around $20.7 million per quarter.
The forward outlook for its cash position is uncertain because whilst the product recall will drive more pressure on cash, the company has also been moving to shrink its operating base. Electrameccanica announced that it would be cutting 98 jobs, mostly roles outside of Arizona, last year in December. This is set to save at least $10 million annually. The company moved its headquarters from Burnaby, Canada to Arizona late last year to be closer to the bulk of its customer base as well as benefit from subsidies provided by the 2022 Inflation Reduction Act to domestic US EV manufacturers. Hence, the cost cuts were a consequence of the US pivot and consolidation of its operations.
Earnings for the first quarter saw revenue come in at $504,000, a roughly 51.9% decline from $1.04 million in the year-ago quarter. This came on the back of 29 Solo deliveries during the quarter and was before the recall stopped all further deliveries. Electrameccanica delivered 45 Solo units in the year-ago quarter, around 15 per quarter. Hence, the company would have likely seen year-over-year revenue growth against what were 29 Solo units sold up until the vehicle stop-sale was issued on February 21, 2023.
Gross profit was actually positive at $96,800 versus a loss of $1.9 million in the year-ago quarter. Net loss for the quarter came in at $12.3 million, an improvement from a loss of $17.97 million in the year-ago period with cash burn from operations coming in at $21.2 million. This would mean a cash runway of around four quarters assuming cash burn remains the same as the first quarter.
Hype Faded Away
This cash burn was an improvement from a burn of $26.5 million in the year-ago period. Critically, the recall is likely set to reverse progress made with reducing expenses and is now set against a net cash position that's already been in decline. The company's previous ascent was not backed by fundamentals, with the current collapse influenced by a Fed funds rate that's been hiked to its highest level since 2008.
This tragedy comes against buoyant demand for EVs. In the US, there were 750,000 fully electric cars were registered in 2022, an increase of 57% over 2021 and 5.6% of the total market. However, that Electrameccanica has ended the production and sales of its three-wheeler does not indicate the end of the EV dream. There is some commentary that the company will be working on a conventional four-wheeled vehicle for eventual production in Mesa.
A reverse stock split should also help the company regain compliance with Nasdaq's minimum listing standard, which requires stock to be over $1. However, SOLO stock will likely continue to see pressure against a dwindling cash position. The company could ride positive sentiment to raise more cash and expand its runway if the Fed pivots at its June meeting and the market rallies in response. Hence, this is not a clear short and the bears face risks from a broader improvement in market sentiment.
Editor's Note: This article covers one or more microcap stocks. Please be aware of the risks associated with these stocks.