Panic Averted
We are now six weeks out from the Amazon.com, Inc. (NASDAQ:AMZN) April 27th Q1 earnings release. The dust has settled, we have read tons of reactions, and the market has had its say.
AMZN stock is up more than 10% since earnings and 30% over the past three months, as shown below.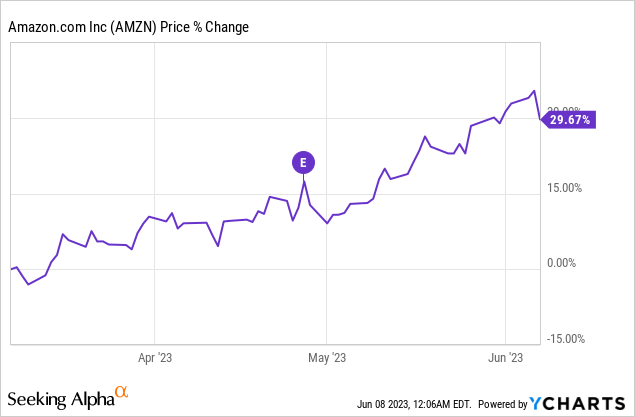 There are several items to discuss, but first, let's talk about the real story from Q1: moving past the panic.
I highlighted the not-so-subtle warnings that CEO Andy Jassy gave investors heading into Q1 earnings here. The annual shareholder letter referred to long-term goals more than ten times. Jassy also prepped us in prior earning calls and the letter by reiterating that Amazon was actively working with its Amazon Web Services (AWS) customers to lower their spending.
We're trying to build customer relationships (and a business) that outlast all of us, and as a result, our AWS sales and support teams are spending much of their time helping customers optimize their AWS spend so they can better weather this uncertain economy. – Amazon Shareholder Letter.
The recent tone had many (including me) wondering how sluggish AWS growth would be. 15%? Gasp…10%?
AWS growth came in at 16%, and while tepid, it was a relief. My gut tells me that something sub-15% would have brought alarm.
As it is, the market finally accepted that the recovery is: (1) going to take time, (2) well underway, and (3) the focus on secular goals is the correct tact.
Amazon stock is seeing momentum. Adding shares in the $80 and $90s was nice, and another modest pullback will likely come. But those waiting for a multi-generational discount in the $60 per share range aren't going to get it, barring economic calamity.
What are the Amazon Q1 results for 2023?
Top line growth
Amazon's net sales hit $127 billion. The 9% increase was encouraging, given the challenging economy and the high bar set by doubling the top line since 2019.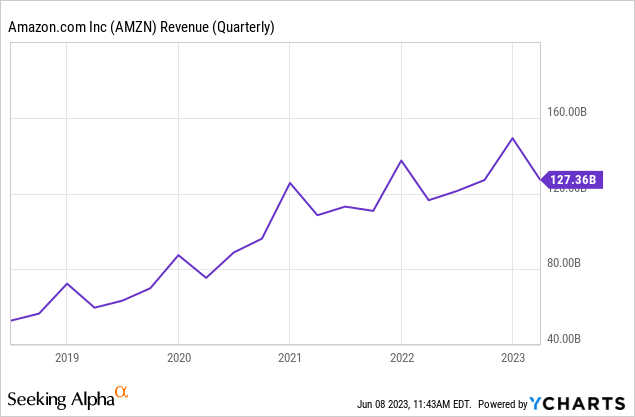 It represented an acceleration over last year's Q1 growth of 7%. It was much better on an absolute basis, an $11 billion year-over-year (YOY) increase in Q1 2023 vs. an $8 billion YOY increase last year. The slackening of foreign currency headwinds was a significant plus.
Free cash flow and CapEx
Free cash flow improvement and the moderating growth in capital expenditures ((CapEx)) continue. This is a critical metric by which I am measuring the company's recovery.
Trailing twelve-month (TTM) free cash flow is poised to turn positive again this year, as depicted below.
And CapEx has leveled off after the significant rise in recent years, and it is falling relative to sales, as shown below.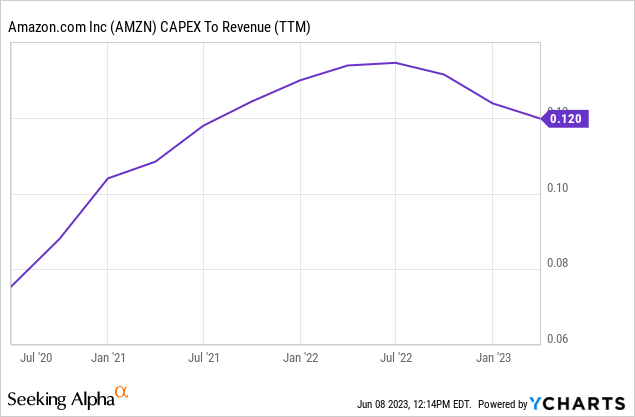 Amazon regaining positive TTM free cash flow will mark an important milestone in the turnaround.
Profits results mixed
Elsewhere, there were mixed results on profitability. Total operating income rose YOY from $3.7 billion to $4.8 billion, assisted by a return to the black for the North American segment after five straight quarters in the red. AWS produced a $5.1 billion operating profit; however, the operating margin retreated to 24%. An uptick in North American profits and maintaining the margin in AWS will signal success in Q2.
Bernstein writes an open letter to Amazon
Elsewhere, Bernstein analysts wrote an open letter to CEO Andy Jassy, chastising Amazon for taking on too many initiatives.
But what we've seen recently is a company simply pursuing too many ideas, with weaker ideas taking away the oxygen, capital, and, most importantly, focus from the truly disruptive initiatives – Mark Shmulik, Bernstein Analyst.
Bernstein has a point; however, there are caveats:
Amazon's shareholder letter released two months ago already addressed these concerns in detail:
Over the last several months, we took a deep look across the company, business by business, invention by invention, and asked ourselves whether we had conviction about each initiative's long-term potential to drive enough revenue, operating income, free cash flow, and return on invested capital. In some cases, it led to us shuttering certain businesses. – Amazon shareholder letter.
Bernstein still supports investing on unearthing the next AWS. Unfortunately, this means spending capital on ideas that never come to fruition. If Amazon focused just on its core eCommerce business a decade ago, it wouldn't have AWS ($85 billion in annual sales and the company's most profitable segment) or digital advertising ($38 billion in sales last year, fasted growing revenue stream since 2020). There were tons of failures along the way, too. It's the nature of the beast.
The letter calls on Amazon to reclassify these initiatives away from current segments, similar to how Alphabet Inc. (GOOG, GOOGL) reports its "other bets." This way, profitable segments show their underlying strength to investors. Yes, please. I'm definitely for seeing more detail in financial results. The unintended consequence will be activist investors with short timeframes clamoring to end these investments, as they do with Google's Other Bets. Paging (see what I did there) Borders, Blockbuster, and Motorola. Amazon, Netflix, Inc. (NFLX), and Apple Inc. (AAPL) would like a word.
In my kingdom, you have to run as fast as you can just to stay in the same place. – The Red Queen in Alice in Wonderland.
The world moves incredibly fast today. Companies like Amazon and Google must constantly invest, evolve or fall behind. We all know companies that focused on their core businesses into irrelevance. So, while I find areas of agreement with Bernstein, like shuttering failures expediently and adding color to the financial reporting, I'll err on the side of aggressively pursuing "the next AWS."