What we know for sure, is that the demand side of the U.S. Economy, as seen through the lens of the transportation sector, is holding up. 
IYT, shown AI-generated in the image above, is the ETF for things that move and carry people and cargo via ships, planes, freight, trucks, and cruise lines.
And our pilot is smiling.
The Global JETS ETF has been bottoming and, along with IYT, has cleared the 23-month moving average. Note, the month is not quite over, so we will give it a few more days. However, at this rate, with GDP and PCE on tap, we expect that, should IYT and JETS maintain their strength, the bulls will come back and buy.
How does increasing demand impact inflation? That never ceases to be a factor as the general macro themes. But, for now, IYT gives the bulls hope.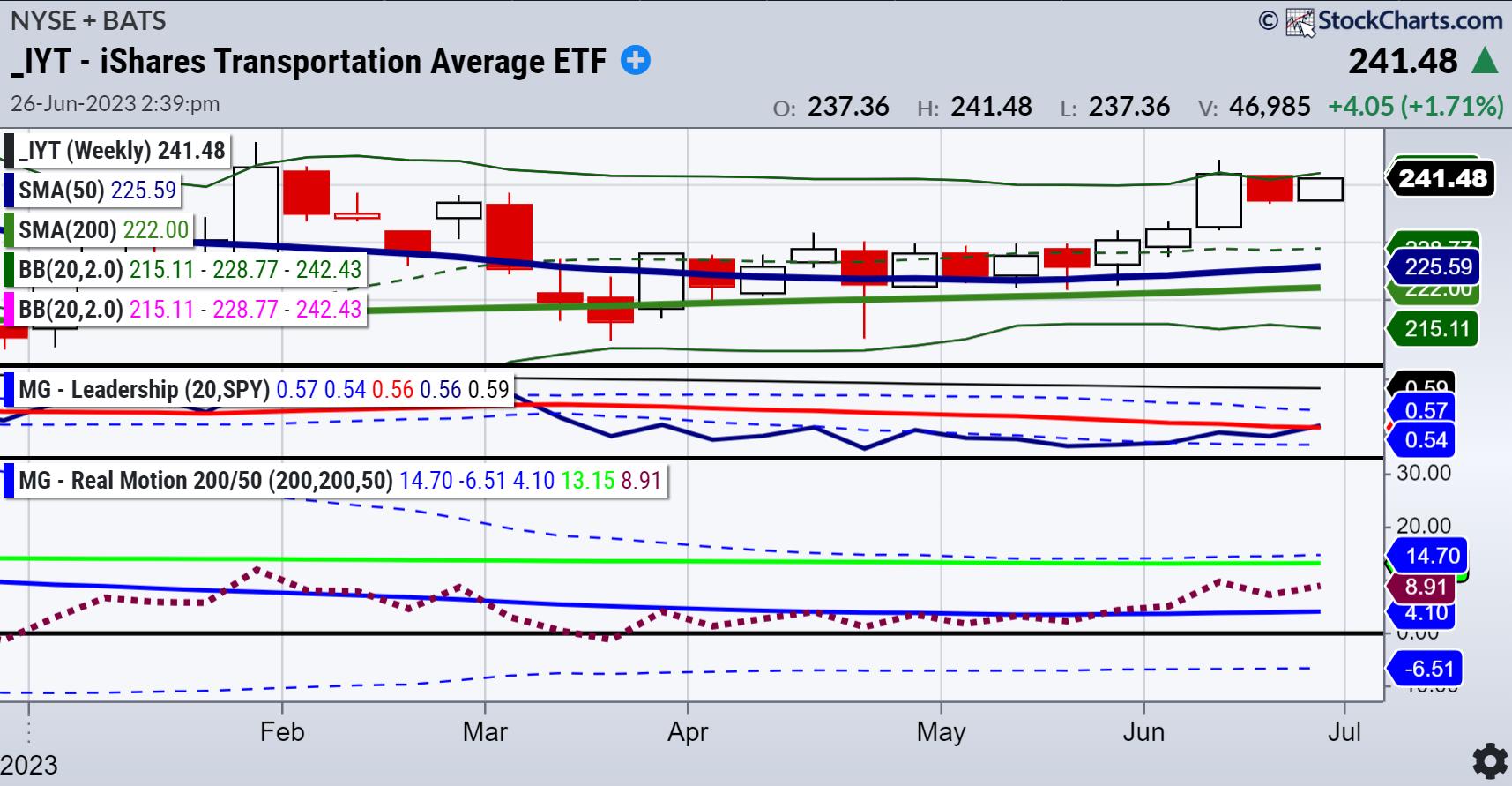 The weekly chart shows 2 inside weeks. That means that the subsequent trading range last week, and so far this week, are inside the trading range of 2 weeks ago. Which means pause. But a pause near the recent highs, and not too far from January highs.
Furthermore, on our Leadership indicator and ACP plug in, IYT is beginning to outperform the SPY. Real Motion or our Momentum indicator shows rising momentum. Nonetheless, the other takeaway is that there is a bearish diversion in momentum to price.
While the price is above both the 50- and 200-week Moving Averages, and the 50-week sits above the 200 in stack… the momentum indicator is above the 50-WMA, but below the 200-WMA. Plus, we like to see the stack line up with the price MAs.
In other words, we like to see the 50-WMA above the 200-WMA in both scenarios. Hence, IYT needs to hold above 238 this week as we end June. And if it does, assume another leg higher.
Of course, we need Granny Retail and Granddad Russell 2000 to stay in the game. Otherwise, we might see 2389 break this week, and IYT take a dive closer to 230.
---
For more detailed trading information about our blended models, tools and trader education courses, contact Rob Quinn, our Chief Strategy Consultant, to learn more.

"I grew my money tree and so can you!" – Mish Schneider
Get your copy of Plant Your Money Tree: A Guide to Growing Your Wealth and a special bonus here.
Follow Mish on Twitter @marketminute for stock picks and more. Follow Mish on Instagram (mishschneider) for daily morning videos. To see updated media clips, click here.
---
Read Mish's commentary on how the situation in Russia impacts the markets in this article from Kitco.
Watch Mish's 45-minute coaching session for MarketGauge's comprehensive product for discretionary traders, the Complete Trader.
On the Friday, June 23 edition of StockCharts TV's Your Daily Five, Mish covers a variety of stocks and ETFs, with eyes on the retail sector for best clues in market direction.
Read Mish's interview with CMC Markets for "Tricks of the Trade: Interviews with World-Class Traders" here!
Mish delves into the potential next market moves for several key markets, including USD/JPY, Gold and West Texas crude oil in this appearance on CMC Markets.
Mish and Dale Pinkert cover the macro, the geopolitical backdrop, commodities, and stocks to watch on FACE Live Market Analysis and Interviews.
Mish and Ashley discuss buying raw materials and keeping an eye on Biotech on Fox Business's Making Money with Charles Payne.
Mish joins Ash Bennington to discuss the market's response to today's inflation data, the AI-powered tech rally, whether we're seeing signs of exhaustion in equities ahead of the Fed announcement on Real Vision.
Mish explains how the Russell 2000 is the canary in a coal mine on Business First AM.
Mish and Nicole Petallides go over rates, key sectors and the economy in this video from TD Ameritrade. They also discuss what raw materials are coming into vogue.
Mish and Charles talk inflation fears, the "wall of worry" and trading large-caps on Fox Business' Making Money with Charles Payne.
Where is the US economy actually heading? Rajeev Suri of Orios discusses this question and what trends suggest with Mish in this video.
---
Coming Up:
June 26: Podcast FreeFX
June 27: Twitter Spaces with Mario Nawfal (8am ET) & The Final Bar with Dave Keller on StockCharts TV
June 29: Twitter Spaces with Wolf Financial (12pm ET)
July 6: Yahoo Finance
July 7: TD Ameritrade
---
S&P 500 (SPY): Slow start 430-437 tight range.
Russell 2000 (IWM): 180 held-can we get back over 183?
Dow (DIA): 33,500 the 23-month MA now back above.
Nasdaq (QQQ): 360 support and an inside week.
Regional Banks (KRE): Back over 40, so now we need a new move over 42.
Semiconductors (SMH): 150 to clear.
Transportation (IYT): Last week in June and 238 area, the 23-month moving average, key.
Biotechnology (IBB): 121-135 range.
Retail (XRT): 62 support and, if clears back over 63, optimism returns–under 60, not so much.
Mish Schneider
MarketGauge.com
Director of Trading Research and Education
About the author:
Mish Schneider
serves as Director of Trading Education at MarketGauge.com. For nearly 20 years, MarketGauge.com has provided financial information and education to thousands of individuals, as well as to large financial institutions and publications such as Barron's, Fidelity, ILX Systems, Thomson Reuters and Bank of America. In 2017, MarketWatch, owned by Dow Jones, named Mish one of the top 50 financial people to follow on Twitter. In 2018, Mish was the winner of the Top Stock Pick of the year for RealVision.