AT&T Inc. (NYSE:T) has traded back down to the lows, following some more disappointing numbers. The U.S. wireless sector is likely to hit a wall on new subscriber growth, but the wireless company is to repay debt and lower spending. My investment thesis turns slightly Bullish on the stock, with T trading with a 7% dividend yield and AT&T retesting decades lows near $15.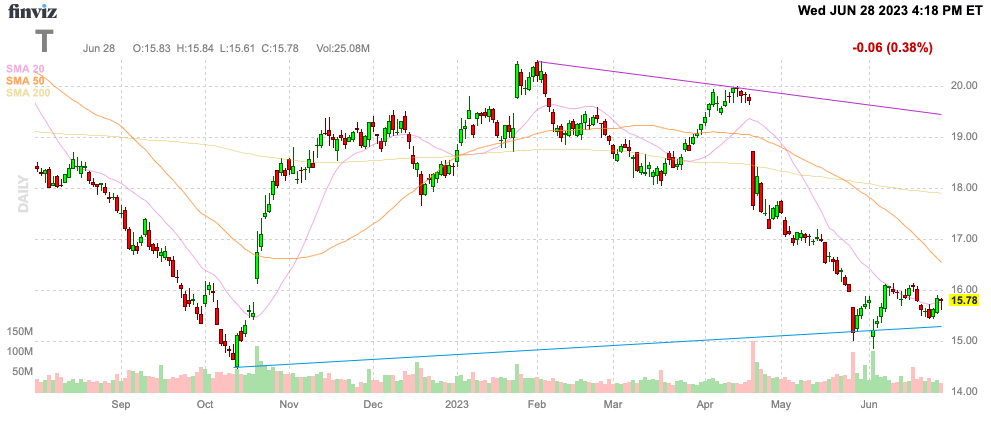 Lows Retest
Anyone wanting to be bullish on AT&T needs to understand the past returns of the telecom stocks aren't very positive. Despite paying a large dividend over the last decade, the stock has only produced a total return of 5.4%, while the S&P 500 (SP500) has produced a massive gain of 228.5%.
The dividend yield regularly topped 7% when the stock was trading at $22 back in 2021, and AT&T has now fallen over 25%. Sure, the large wireless company slashed the dividend last year, but the current 7% dividend is another warning sign of the market fearing a future dividend cut.
For now, though, AT&T appears to be doing well here. The wireless giant guided down Q2 subscriber expectations, but A&T still forecasts producing $16 billion in free cash flow in 2023. The company expects capex spending to slow from a $24+ billion level in early 2023 to closer to $20 billion next year.
The dividend payout now requires $8 billion in cash payments. That plus an additional $2 billion in preferred stock payments leaves up to $6 billion in cash flow to repay debt. The stock can rally while AT&T is repaying debt.
The stock rallied to $35 back in 2016, when the company was on the path of repaying debt. AT&T fell as the company took on massive debt again in 2018 to buy 5G spectrum. Now, the stock is showing some stability here, with the potential for repaying debt during 2023 with a goal for exiting the year with net debt down to $128 billion.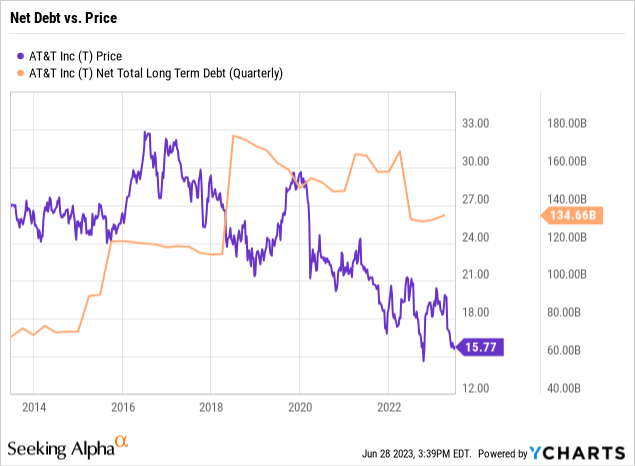 Confirmed Amazon Risks
While the CFO dismissed any incentives for wireless providers to work with Amazon.com, Inc. (AMZN) on wireless services at the Bank of America C-Suite conference, Mr. Desroches appears to ultimately confirm the risk of an entry into the space with this statement:
Look, even more fundamentally, when I look at — we, T-Mobile and Verizon. The only three companies with networks in the US, nationwide networks. What if we said no. Amazon, why would Amazon do this? Amazon has high penetration, let's say, north of 80% of US households. Would they really enter into a variable pricing construct for an incremental 5%, 10%. Also with a player that is unproven and doesn't have a built out network at this stage. I'm just not sure that there any of the players have the incentives to really lean into this at this stage. So overall, look, DISH is a partner, and we really appreciate the partnership. But there is nothing to the rumors that have been discussed.
The current wireless industry players don't have an incentive to lean into a deal with Amazon at what was rumored as a $10/month plan, but the lack of incentives very much suggests how uneconomical a deal would be for the sector. Dish Network Corporation (DISH) has plenty of incentives for entering a deal with Amazon, including the addition of a new potentially large customer and the capital to help complete their 5G network.
While the AT&T CFO dismisses the need for a wireless deal in order to sign up incremental customers to Amazon Prime, the executive probably overlooks the competitive threats in the sector from Walmart (WMT). Amazon isn't looking to add additional customers from a wireless agreement, but rather protect the existing Prime base from converting to Walmart+.
While a lot of industry players appear to dismiss an agreement with Amazon, cut-throat competition in a 5G wireless market suddenly with 4 prime networks could quickly change the equation. The industry has already seen a period where retail net adds have remained robust despite most Americans already having a wireless plan.
An industry with 360+ million subscribers already faces limited growth with what amounts to 6.3 million new subscribers added in 2022 when excluding the net effect of the 3G network closures. The industry isn't even growing at a 2% annual clip.
Even worse, Dish has actually been donating share despite building a 5G network. The wireless provider lost 81k subscribers during Q1'23 alone, and any reversal of this trend combined with a deal with Amazon could lead to all of the net growth in the sector shifting towards an Amazon/Dish partnership.
Takeaway
The key investor takeaway is that AT&T Inc. stock is cheap at just 6x EPS targets of $2.40+. The stock likely has upside back to the $20 range with the repayment of debt, though investors don't want to become long-term investors due to the likely increased competitive pressure in the wireless space.