KEY

TAKEAWAYS
DIA bounced off its 21-day exponential moving average
The SCTR score is above 70 and market internals are looking positive
Index ETFs can be a great way to get exposure to an index without owning individual stocks
If you look at the performance of the S&P 500 index ($SPX), the Nasdaq Composite ($COMPQ), and the Dow Jones Industrial Average ($INDU) over the past six months, you'll see that $COMPQ is the performance leader, while $INDU is the laggard.
CHART 1: PERFCHART OF THE THREE MAJOR INDEXES. The Nasdaq Composite is the leader while the Dow Jones Industrial Average is the laggard. Will the Dow catch up?Chart source: StockCharts.com. For educational purposes.
But while $SPX and $COMPQ are trading below their 21-day exponential moving average (EMA), $INDU could bounce off this level. Is it going to be a sprint or a jog to new highs for these three indexes?
Technical Perspective of DIA
If you want a piece of the action in $INDU, it's worth looking at the chart of the SPDR Dow Jones Industrial Average ETF (DIA). The daily chart of DIA below shows that, although DIA dipped below its 21-day EMA on August 8, it recovered and closed just above $353.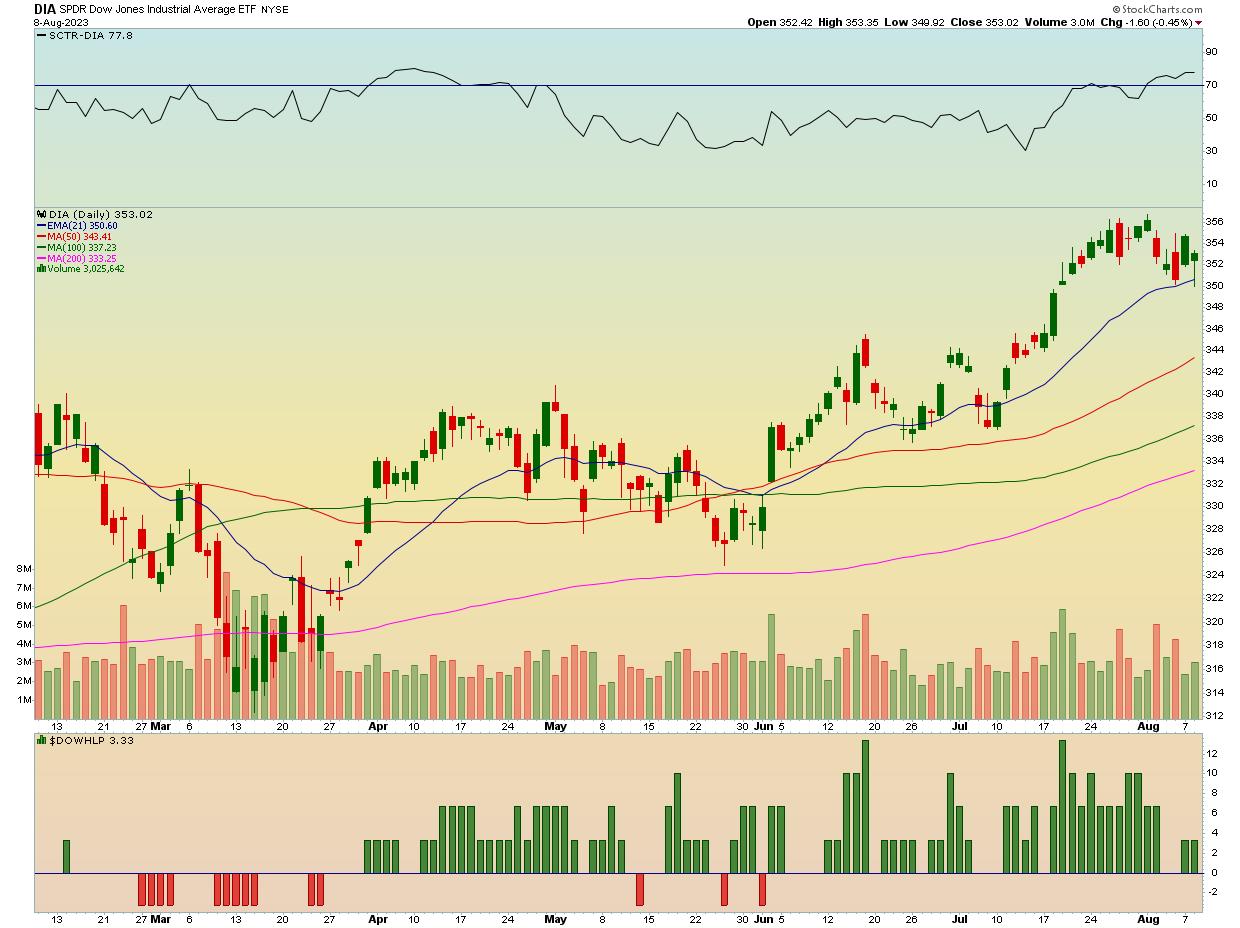 CHART 2: DAILY CHART OF SPDR DOW JONES INDUSTRIAL AVERAGE ETF. DIA bounced off its 21-day exponential moving average, has a SCTR score > 70, and has strong market internals. Could DIA see new highs soon?Chart source: StockCharts.com (click chart for live version). For educational purposes.
The StockCharts Technical Rank (SCTR) score in the upper panel has crossed above 70, which is a positive sign. The Dow New Highs-New Lows Percent ($DOWHLP) in the lower panel is above zero, although lower than during DIA's upward move. But during a pullback, it's not unusual for the new highs to decline. Its positive value is encouraging.
Benefits of Trading Index ETFs
Trading an index ETF such as DIA gives you exposure to all the stocks in the index without buying individual stocks. It reduces some of the stock-specific risks that could occur with individual stocks.
---

StockCharts Tip: To find out more about DIA, scroll down to the Summary Pages in the Member Tools Section of Your Dashboard and click on Symbol Summary. Type DIA in the symbol box to view fundamental and technical details. Click on the URL in the Profile section to see the top holdings in DIA.
---
Investing in DIA gives you some exposure to stocks like United Health (ticker symbol: UNH), Goldman Sachs (ticker symbol: GS), Microsoft (ticker symbol: MSFT), and Home Depot (HD) along with several big-name industrial stocks.
If DIA bounces off the 21-day EMA and moves higher, it could see new highs. It's very close to its 358.47 high, reached on the week of January 3, 2022.
If you switch to StockChartsACP, you can add the Distance From Highs indicator to see how far DIA is from its 52-week high (see the lower panel in chart below). The weekly chart shows that DIA is very close to its 52-week high.
Technically speaking, DIA looks like a strong candidate for a long position. Of course, you shouldn't rule out the possibility that DIA could stall and fall further. Keep an eye on the 21-period EMA; a bounce from here with strong market internals could push this ETF to new highs. And if it happens, you don't want to miss it.
CHART 3: DIA TRADING CLOSE TO ITS 52-WEEK HIGH. The Distance From Highs indicator suggests that DIA is close to its 52-week high. Could it go higher, or will it stall and move lower? It remains to be seen, but, if the former scenario plays out, it could be a great trading opportunity.Chart source: StockChartsACP. For educational purposes.
Final Thoughts
DIA is a great way to trade the stocks that comprise the Dow Jones Industrial Average. You could also use the ETF to hedge your portfolio using options, especially if you already own shares of individual companies in the index. The same applies to any index ETF because they give you an overall view of the entire market.
---

Disclaimer: This blog is for educational purposes only and should not be construed as financial advice. The ideas and strategies should never be used without first assessing your own personal and financial situation, or without consulting a financial professional.
About the author:
Jayanthi Gopalakrishnan
is Director of Site Content at StockCharts.com. She spends her time coming up with content strategies, delivering content to educate traders and investors, and finding ways to make technical analysis fun. Jayanthi was Managing Editor at T3 Custom, a content marketing agency for financial brands. Prior to that, she was Managing Editor of Technical Analysis of Stocks & Commodities magazine for 15+ years.
Learn More