Today I present you an overview of trades made using the Owl strategy – smart levels for the EURUSD, GBPUSD and AUDUSD currency pairs for the week from September 11 to 15, 2023. The market was quite clearly undecided on the direction of its movement, and only 2 trades were opened in total.
For convenience and timely receipt of signals I use the Owl Smart Levels Indicator. The main trading timeframe is M15, while the H1 and H4 timeframes are used to confirm the trend direction of the higher timeframe.
EURUSD review

On Monday and Tuesday the market was completely in the dead zone. The Owl Smart Levels indicator gave the first and only signal to open a trade on EURUSD only on Wednesday evening.
Fig. 1. EURUSD BUY 0.18, OpenPrice = 1.07345, StopLoss = 1.07261, TakeProfit = 1.07617, Profit = -$8.93.
Having warned about the change of market direction by the reversal of the big arrow, Owl Smart Levels offered to close this trade and saved money by limiting the loss.
There were no trades in the asset on Thursday and Friday.
GBPUSD review

On Tuesday and Wednesday the market was mostly in the dead zone, and the indicator offered to open the only one trade on GBPUSD only on Friday afternoon.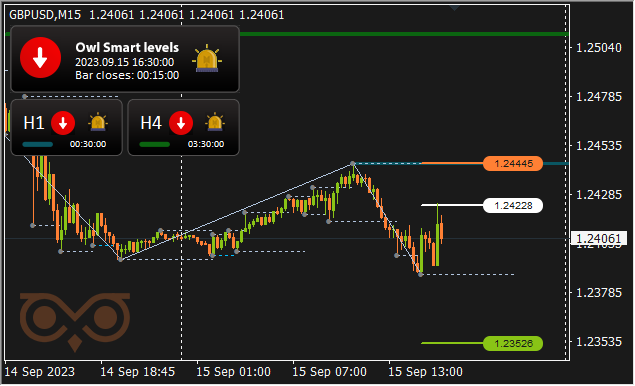 Fig. 2. GBPUSD SELL 0.07, OpenPrice = 1.24228, StopLoss = 1.24445, TakeProfit = 1.23526, Profit = $29.86.
The trade, opened just before closing of weekly trades, had to be closed according to our trading rules in manual mode, despite the expected higher income.
And it was the last trade.
AUDUSD review

All Tuesday, half a day on Wednesday and the second half of the day on Friday the market was in the dead zone, and there were no trades on the asset during the week.
Results:

So, there were only 2 trades during the last trading week and both of them were closed forcibly. One was profitable, the other was unprofitable. Extensive dead zones and general market uncertainty, which is not very good for a trend indicator, did not allow opening enough trades. In the situation with only two trades made, the final table in general looks quite good.

We will see how the trading will look like and how the market will behave, as well as what trades will be offered to us to open Owl Smart Levels on Monday, during the upcoming trading week.
See other reviews of the Owl Smart Levels strategy:
I'm Sergei Ermolov, follow me and don't miss more useful tools for profitable trading on the Forex market.