Why am I excited for this week?
It's a new quarter and September is behind us. This year the seasonal pattern has been spot on. It isn't always this way, but if seasonal patterns continue this quarter should be a sharp rally.
In my experience, the key variable, the 10-year interest rate will likely moderate. It may have to touch 5% of get close (as it already has) and then it will roll back to consolidate for a number of weeks. We don't even need to have the rates recede. Even with the rate staying where it is, we will do fine. Just take a look at this 5-day chart of the 10-year from CNBC.com.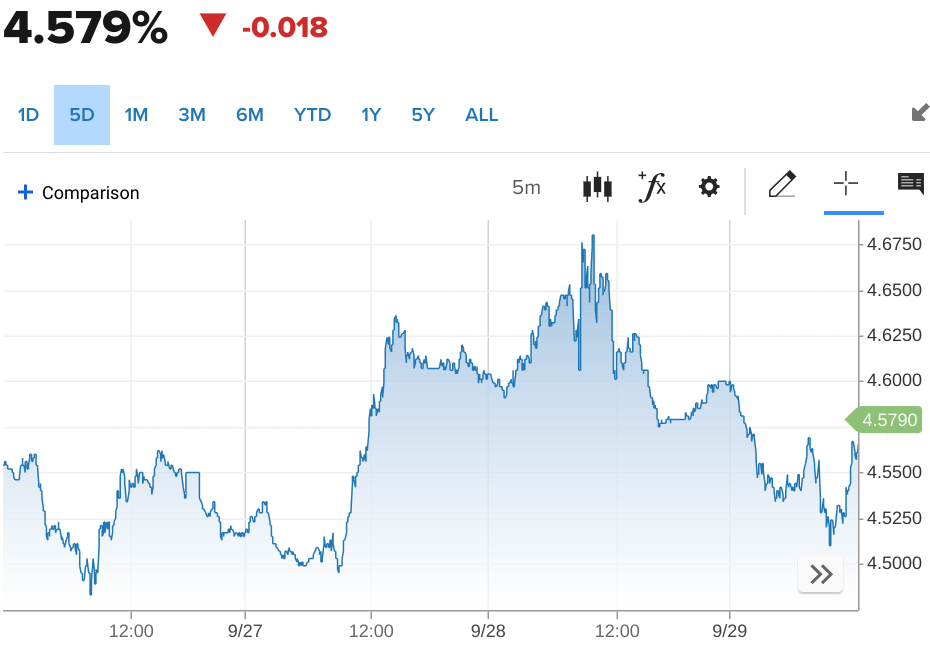 Why would a 5-day chart matter? Here is a one-year chart.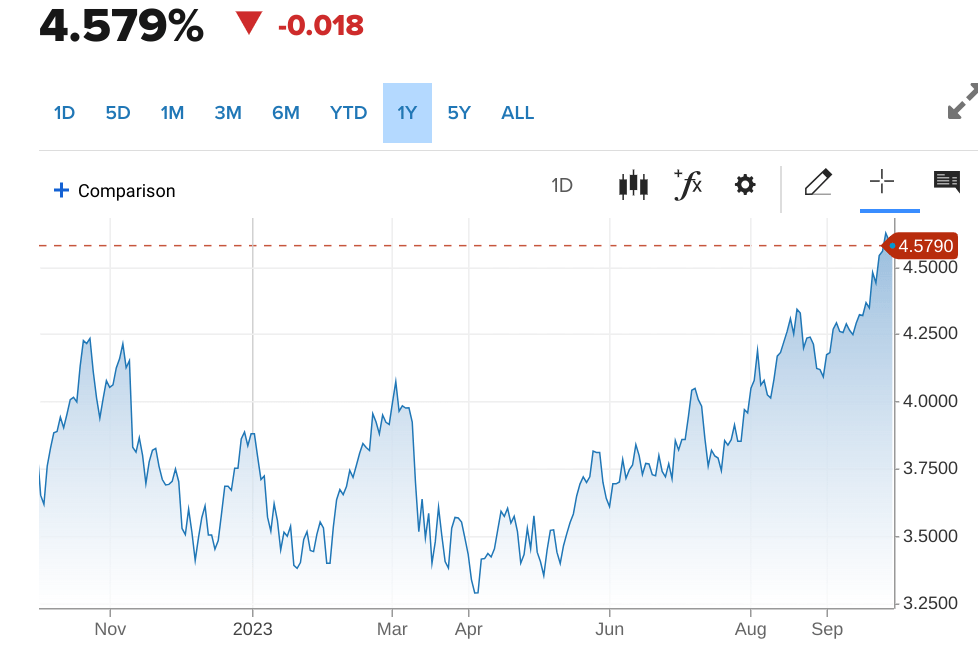 We see peaks in November '22 and then going into the year-end, these coincide with the sell-offs on the S&P 500, then a peak in March. We don't see for instance the peak in November, at about 4.20% plateau for months on end. No, we hit a peak and then the rates retreat where we don't even get close to 4.20% until March, then falling sharply to nearly 3.25% for the 10-Y. So to me this turnover, after reaching nearly 4.7%, is significant. Can we go to 5% and over? We can, but inflation is benign and rates are probably as high as they're going to get for now.
Lower inflation
The turn last week matches up with a very benign PCE result. Also, there has been a string of disinflation data this summer. Nothing goes down in a straight line but most of the data has evidenced lower inflation. Over the three months through August, core prices rose at a 2.2% annualized rate. Over this last quarter, If that trend continues, inflation will get very close to the Fed's 2% target. Market participants can't include this trend in their forward projections and take rates lower. Of course food and energy, especially energy will likely be elevated. However, 90 bucks per barrel isn't as impactful as when oil hit that level a decade ago.
I am conjecturing that after this long climb up there will be several things that will bring down rates besides diminishing inflation. At some point the fact that the 10-year is close to 5% will surely pull in investors to buy the 10-year bond. In the PCE numbers, Powell's favorite is the Core deflator and it came in at 3.9%, breaking under 4% first time since 2021. Even though Fed presidents will tell you that the inflation numbers are still sticky and that we need several more months of cooler numbers to confirm that inflation is on the way out, I am sure the Fed presidents are very pleased with the current direction. In any case, if you don't want to accept that this is the big turn and the 10-year will continue its ascendence I am still very happy about stocks this week. The only data point of real consequence is the September employment numbers and the unemployment percentage. Even here, Powell's issue is the job openings per worker, and that is going down as well. The worker participation rate has been growing and female employment is reaching historic levels. The more people working and available to work the lower inflation is. This is especially true in services, it's annoying because Powell knows better than to blame high employment for inflation. The great economist Milton Friedman said in 1963 that "(persistent) inflation in all ways is a monetary phenomenon" and 60 years later the words are as true as ever.
So let's be happy about this week and we can argue about the whole 4th Quarter for the next 3 months.
It is my opinion that we will look back at this week as where the rally began. That is if you are prepared for some continued up and down motion. It will likely be two steps forward and one step back. I suspect that the continuing resolution out of Congress will be an excuse to bid up the futures, ah I just got a notice that the futures are in fact up at 6 p.m. The S&P 500 futures are up 0.5% and the Nasdaq is up 0.9%. So that is encouraging if it persists, just as last week the market was in the thrall of the 10-year bond, it will be so this week. Just because I believe it will "behave" doesn't mean it will be cemented in place. So if it does start moving up the market will take two steps back. I will be buying that dip.
So what is my approach?
I believe that in my last article, I talked about the big-cap tech stocks that I invested in, I'm still there. I doubled down on all of them except NVIDIA (NVDA) which ran up to 440 and I got out with a minimal profit. I will get back in now that I have a better feel for its price action. I think NVDA will attract buyers under 430 at this point, and I would love to get back somewhere in the 420s. How can I say that when it fell 2 weeks ago to just above 400? Because we saw buyers coming in at higher prices. It seems strange but some people feel a stock is more of a bargain as it gets higher. I have two additional names that I started building trading positions in as well as salting away some shares as investments; they are Palantir (PLTR) and one you've likely never heard of, Nutanix (NTNX). PLTR was paid the dubious honor of being part of an article in the NY Times about how the UK was going to award a multi-billion dollar contract to this secretive technology company – PLTR. If you want to read the article here it is. Once PLTR starts getting picked up by general media, you know that it is getting free investor communication and branding. I think that makes PLTR more of a buy, so I bought it.
NTNX is a tech company whose time has finally come. It helps manage multiple clouds for an enterprise including those on-premise, this is called the hybrid cloud. As enterprises move more applications to the cloud some data is just too sensitive, so the hybrid cloud helps address that issue. Also with the cost of AI training, I am betting that some companies may want to do some of that training in-house, not to mention the desire to protect that very valuable customer data they are likely using.
The Short side
I am sticking with my long/short strategy looking for stocks that are getting weaker for a number of reasons. That is why I made a downside bet on NIKE (NKE), I think last week's reaction to their earnings report was because it wasn't fiasco. NKE did miss their revenue number, I give credit to a Group Mind Investing member who pointed that out. I still think the consumer wants Taylor Swift not a new pair of kicks. I just don't think clothes from NKE will be under the tree this year. Anyway, there is a good chance NKE will give up the rest of its gains from the earnings pop this week. Another downside play is Arm Holdings (ARM). Yes, I closed it out last week at 51. This week, it popped almost to 57 before it slid back down to 53ish. Once it hits 51, I will close it out again. I am also eyeing Instacart (Maplebear (CART)), if CART gets a bid in the excitement of this week, I will throw some Puts Long at good ole "Maple Bear" which expires in December. I am not looking for a big jump, 33 to 34 would be just fine. My reasoning is that tomorrow is only October 2, but come November time, every CART employee will be allowed to sell 30% of their shares. I'm wondering if that is why the CEO actually resigned that title. How would it look if the CEO sold 30% so soon after the IPO? I probably should have waited in order to get Group Mind Investors in on the short side before I shared this, but it is no secret, it's in the filings. It's not like I dislike the company, I think their advertising model is brilliant, and they do make money on delivering groceries. I just think the pricing was way too aggressive. I do have several other downside plays but these I will save for Group Mind Investing subscribers.
If this rally becomes the real deal that I think it will be, there will be smaller tech names to buy that are cashflow positive, and just about generating profits that should fly. Next time I will reintroduce some old names that will be new again, and ready to reach for old highs.
So tomorrow is another day in the market. May the Futures be with you…