In this article we discuss our recent allocation to the Credit Suisse Asset Management Income Fund (NYSE:CIK). We last covered the fund in June, in the context of the relative value strategy which we discuss in the article.
The fund continues to be a very strong performer in the sector and has recently moved out to a very attractive valuation. The key risks for the fund remain further worsening of market risk sentiment as well as a sharp rise in bond yields.
We also discuss our pair rotation strategy between CIK and its sister CEF High Yield Bond Fund (DHY) which has resulted in, by far, the best performance across the High Yield CEF sector.
Investors may recall that Credit Suisse was acquired by UBS this year. Credit Suisse still serves as investment adviser for the Fund pursuant to an interim advisory agreement. Eventually CIK will be rebranded as a UBS fund however the takeover of Credit Suisse does not increase the fund's risk to shareholders.
One area that we are keeping an eye on is whether the fund's portfolio managers will change. At the moment, the latest disclosure says this is not contemplated however we cannot rule it out in the future.
Fund Snapshot
CIK allocates primarily to high-yield corporate bonds with a sweet spot rating being single-B – fairly typical in the sector. The fund also holds around 13% in bank loans and 5% in CLO Debt securities. The fund's leverage is modest at 26%.
The advantage of this type of portfolio is that, unlike most other fixed-income CEFs, the fund's net income has been relatively stable over the past couple of years. Its $52m of floating-rate assets match up well against $55m of floating-rate liabilities. This is why its net income has not fallen in the last couple of years and likely why its distribution hasn't been cut since the start of the Fed's interest rate hiking path.
Case For CIK
CIK has consistently outperformed the broader High-Yield corporate bond CEF sector. Its 5Y total NAV return is well above its peers.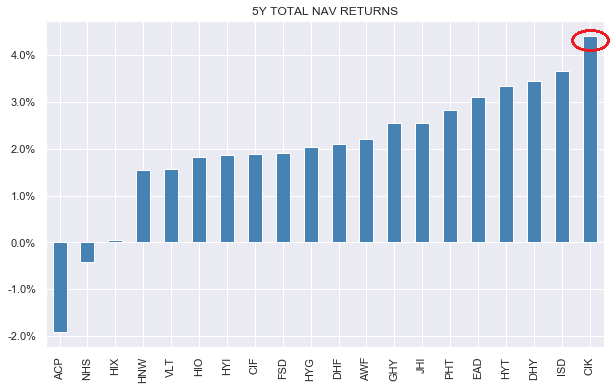 A big part of the reason for the fund's strong performance is its unusually low management fee of 0.5% that is charged on the lower of the fund's market value and NAV. This is in contrast to the typical CEF which has a higher management fee – typically around 0.8-1% – that is also charged on the fund's total assets. Overall, this works out to a performance tailwind of 0.8-1% annually for CIK.
What's interesting, however, is if we adjust for this tailwind, CIK would still perform at the head of the pack. In other words, not only does CIK boast an unusually low fee level, its performance, when adjusted for this fee level, is very strong.
On the income production side, the fund's distribution coverage is 90% which may not seem great but it compares very favorably to the sector median of 84%. As we highlighted above, unlike most other fixed-income CEFs, its net income has not fallen in the last couple of years. due to a minority floating-rate allocation.
The fund's valuation has recently come back down to earth after trading at a very elevated level. We exited the fund in May of this year when it was trading at a small discount and a discount differential of around 6% tighter than the sector average. Now the fund trades at a much larger discount and very close to the sector average discount.
Rotation Strategy Overview
We like using the pair of CEFs CIK and DHY in a relative value rotation strategy for several reasons. One, both funds are strong performers and it makes sense to apply a rotation strategy to strong performers as you get additional alpha on a high return level of beta. It makes much less sense to do this for underperforming funds as the additional alpha from the rotation strategy may not even cover a subpar beta.
Two, the two funds are very similar to each other – not unexpected as they are run by the same managers. The chart below shows the pairwise NAV return correlation matrix of the HY CEF sector. The highlighted cell shows that the CIK/DHY correlation is fairly high – green cells show a low level of correlation (i.e. similarity) and red cells show a high level of correlation.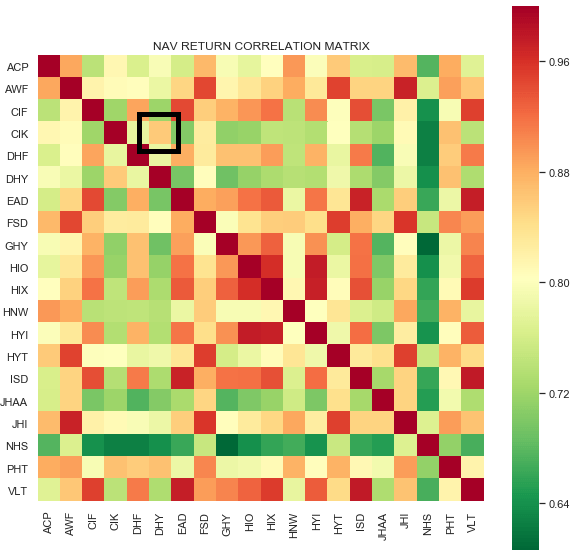 Overall, this double-barreled aspect of strong performance and opportunistic rotation can significantly boost the return of either one of the funds. It can also significantly outperform the broader sector as we show below.
We have made 4 rotations across these funds in the last year or so, having started out with a CIK position as the chart below shows.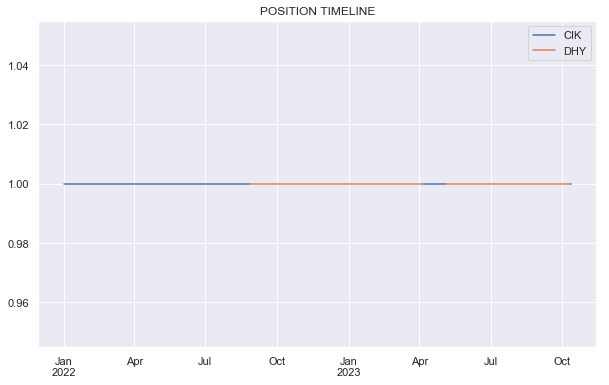 This chart shows the timing of our rotations based on the discount differential of the two funds. We like to move to CIK when the discount differential between the two funds is low and to DHY when CIK jumps out to a premium over DHY. In a "normal" market CIK should trade at a substantial premium to DHY given its much lower management fee. We estimate this premium to be around 8% i.e. if DHY trades at a discount of 10%, CIK "should" trade at a discount of 2%.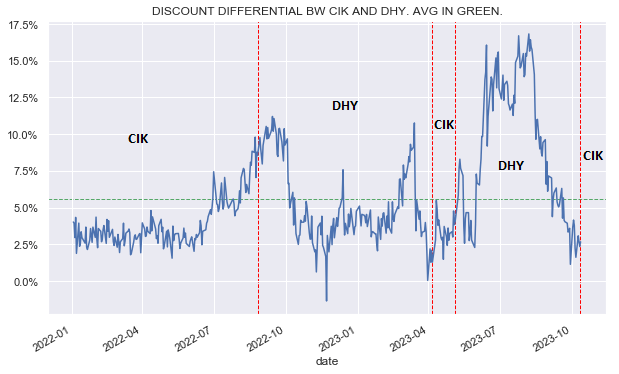 This chart shows the performance of the rotation strategy (in blue) relative to both funds. The strategy was underperforming CIK for a little while in August as CIK jumped out to a large premium but now that CIK has moved lower, the strategy is back on top.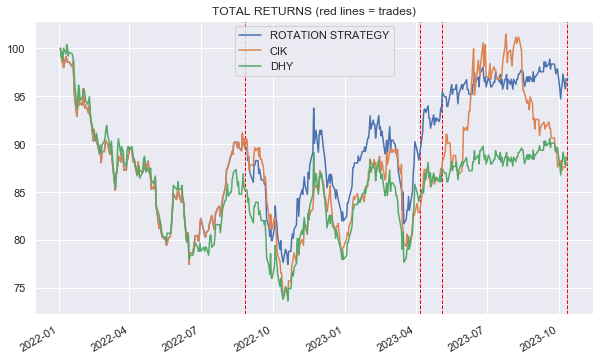 This chart shows the performance of the strategy since our initial CIK allocation relative to other High Yield CEFs. Only the very low duration target term CEF JHAA has outperformed it. It shows the power of additional alpha on top of a strong beta.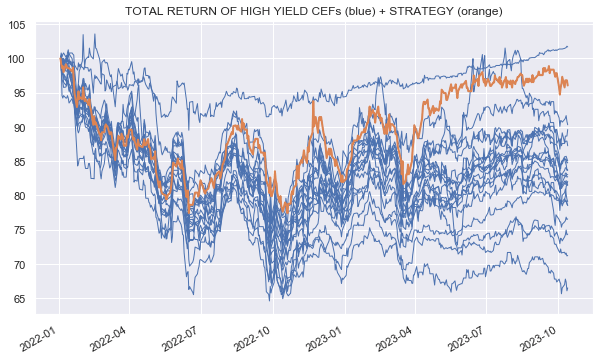 Takeaways
CIK remains an attractive fund particularly now that its valuation has moved out to a more appealing level. The fund has consistently outperformed the broader HY CEF sector in part due to its unusually low fee as well as its credit picking. By pairing CIK with DHY in a relative value pair strategy, investors can further improve their return profile and boost returns.