MPLX LP (NYSE:MPLX) is a well-run master limited partnership that achieved record EBITDA and distributable cash flow in the third quarter and generated a solid 1.6X distribution coverage in Q3'23. The midstream firm also raised its distribution by 10% while maintaining stable distribution coverage compared to the previous quarter. MPLX is deleveraging its balance sheet and offering dividend investors above-average prospects for distribution growth. I believe MPLX's performance is exemplary and since the firm's units are attractively based on EBITDA, MPLX is a top pick for dividend investors.
Previous rating
I rated MPLX a strong buy in the first quarter – This 8.9% Midstream Yield Is A Strong Buy – due to the company's long-term growth potential in the Storage/Logistics and Gathering/Processing business. Since then, MPLX has massively increased its distribution without this materially affecting its distribution coverage ratio. The firm is also seeing a favorable deleveraging trend which I believe reduces the risk of the unit distribution.
A diversified master limited partnership with strong growth
MPLX operates a network of pipelines that are used to transport energy raw materials such as crude oil, refined products, and natural gas (liquids) from the Bakken, Marcellus, and Permian basins. Other assets include terminals, refinery tanks, and storage and fractionation facilities which allow MPLX's producer clients to transport their products quickly and efficiently to consumer end-markets.
In my opinion, midstream firms are especially attractive for dividend investors as they generate revenues from fee-based supply contracts that protect them to a certain degree from price declines in the energy market.
MPLX operates two key segments: (1) Gathering and Processing and (2) Storage and logistics. The Storage and Logistics business generated $1,091M in adjusted EBITDA for MPLX in the third quarter which is about 68% of the company's total EBITDA. Gathering and Processing contributed $505M to MPLX's EBITDA and was therefore generating a 32% EBITDA share. Both segments experience steady growth through an increase in throughput volumes and higher tariff rates, resulting in L&S Y/Y EBITDA growth of 13% and G&P Y/Y EBITDA growth of 1%.
Strong distribution coverage implies potential for distribution growth
MPLX generated $1,373M in distributable cash flow in the third quarter of FY 2023, implying 9% year-over-year growth while its adjusted EBITDA also increased 9% Y/Y to $1,596M. MPLX had a distribution coverage ratio of 1.6X in the third quarter compared to a 1.6X coverage ratio in the year-earlier period (and the same is true for the company's nine-month figures).
MPLX's distributable cash flow is more than sufficient to cover MPLX's distribution of $0.85 per unit as well. In October, MPLX raised its distribution by 10% from $0.775 per unit and the midstream firm has a history of generous distribution increases: MPLX's distribution rate increased 6.3% on average per year since FY 2017.
Favorable deleveraging trend
At the same time that MPLX has been able to grow its distribution aggressively without hurting dividend coverage, the midstream firm also lowered its leverage ratio.
MPLX generated $6.1B in adjusted EBITDA in the last twelve months which calculates to a leverage ratio — as measured by the total-debt-to-adjusted-EBITDA ratio — of 3.4X. Just four years ago, in FY 2019, this leverage ratio was at 4.0X, improving financial flexibility for the company (to do acquisitions, as an example) and resulting in a lower-risk distribution.
MPLX valuation
MPLX has an attractive valuation based on EBITDA projections. MPLX is expected to generate EBITDA of $6.33B in FY 2024, implying 2.1% Y/Y growth… which calculates to a forward Enterprise-Value-to-EBITDA ratio of 9.0X. Larger, more diversified midstream firms trade at slightly higher EV-to-EBITDA ratios: Kinder Morgan (KMI) has an Enterprise-Value-to-EBITDA ratio of 9.2X and Enterprise Products Partners (EPD) has an EV-to-EBITDA ratio of 9.4X.
However, Kinder Morgan and Enterprise Products Partners have much larger enterprise values, market capitalizations and up to 53% higher projected forward EBITDA (25% in the case of Kinder Morgan) than MPLX. To me, MPLX's smaller market value only makes the midstream more interesting because it can grow into a much larger valuation over time.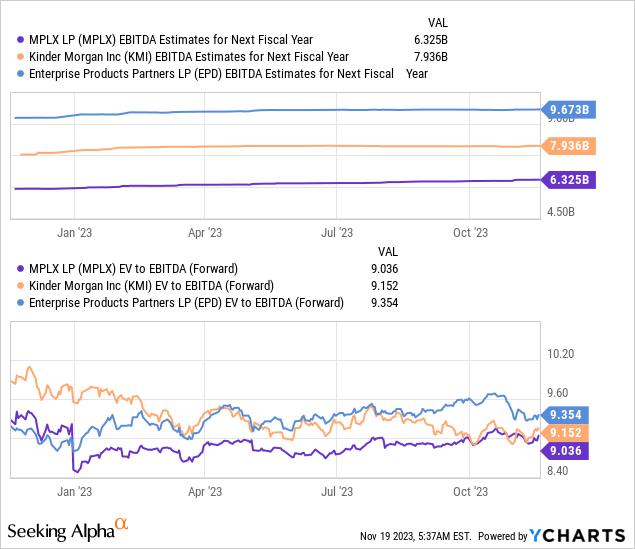 Risks with MPLX
MPLX operates as a master limited partnership in the energy industry and is heavily focused on the transport and storage of fossil fuels like crude oil and natural gas liquids. Considering that the U.S. energy system is transitioning to new, low-carbon energy sources, MPLX could experience regulatory headwinds regarding expansion projects… which could negatively affect the rate at which its EBITDA and distributable cash flows grow going forward. What would change my mind about MPLX is if the company saw a deterioration in its distribution coverage or froze its distribution.
Final thoughts
MPLX is a well-run master limited partnership with strong distribution coverage and high-single-digit EBITDA/DCF growth. The firm's units are also attractively valued based on EBITDA as well as in relation to other midstream companies that run large pipeline networks. Considering that MPLX has had a distribution coverage ratio of 1.6X (unchanged from the year earlier), raised its distribution by 10%, and succeeded in lowering its leverage, I believe MPLX is a top pick for dividend investors with a high-quality 9% yield.